MLB looks to new season amidst pandemic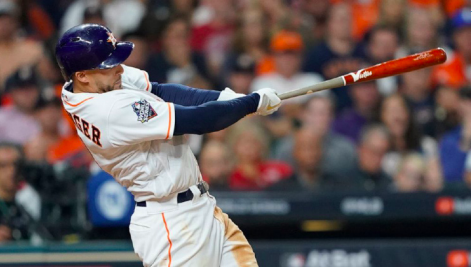 After a shortened season in 2020, all fans and players are ready for a full 182 game season. Similar to the rest of the sports world, COVID protocols will be adhered to in order to keep all players and staff healthy and limit the amount of game cancellations.
In the offseason there have been new additions to different teams that could make this season very interesting. One of the biggest trades that happened over the offseason was the Cleveland Indians sending all-star shortstop Francisco Lindor to the New York Mets on January 7. Lindor seems very excited about the trade and is even starting to think about staying long term.
"I'm excited to be with the Mets organization. I'm not against a long term. I'm not against it," Lindor said.
He will now be teaming up with Jeff McNeil, Michael Conforto, and Pete Alonso to give Met's fans the slight hope that they could make a run in the playoffs this year. Another big move was the signing of all-star outfielder and 2017 World Series Most Valuable Player (MVP), George Springer to the Toronto Blue Jays. On January 19, Springer signed a six-year, $150 million dollar contract with the Blue Jays. He is looking forward to teaming up with a very young squad in Bo Bichette and Vladimir Guerrero Jr to hopefully make a run in the American League (AL) this year.
"The young core is obviously very, very impressive. [Bo] Bichette, [Cavan] Biggio, [Vladimir] Guerrero [Jr.] and [Lourdes] Gurriel [Jr.] The way that the front office has gotten behind their guys. The message is that they really believe in this team, and that's obviously very important to me," Springer said.
The defending World Series Champions Los Angeles Dodgers are still looking very strong, coming in at first in Bleacher Reports preseason power rankings for 2021. They are followed by the Tampa Bay Rays and the Atlanta Braves, both who made great runs in this year's playoffs. The San Diego Padres with young superstar Fernando Tatis Jr, are looking to make big playoff runs this season as well as the New York's Mets, who on paper, are looking very strong heading into the season. In the past decade the Mets have had some big playoff runs but have always come up short however, they hope to put an end to that this year.
Just like last year, odds provided by PostBets, has Los Angeles Dodgers Outfielder, Mookie Betts as the favorable winner of the Most Valuable Player (MVP) award in the National League (NL). Coming off a World Series victory, Betts is looking to keep it up this season and win his second league MVP Award.
In the AL, Jose Abreu is coming off his first league MVP award but has dropped to third in his odds to win the award in back to back years. Again, PostBets has their odds in favor of Los Angeles Angels outfielder Mike Trout, who in some people's eyes is the face of the league. Trout is a three time league MVP and has been a finalist for the award seven times. He hopes to win his fourth league MVP and get even closer to Barry Bonds historic seven league MVPs in his career.
With so many additions to different teams, this upcoming season should be one that fans are excited for. This year there is a full 182-game season with the potential of some stadiums allowing in a small amount of fans. If COVID-19 numbers are low enough in designated areas, there may be a means to get back to the old baseball game feel with loud fans, cotton candy, popcorn and cracker jacks.