Hundreds protest to salvage canceled football season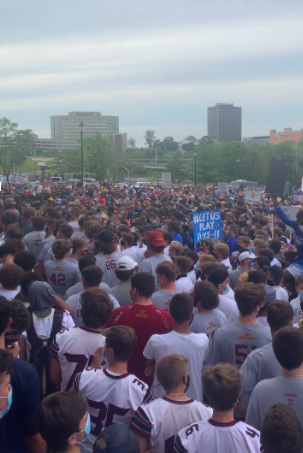 Hundreds of individuals with ties to the football and cheer community gathered at the State Capitol building in Hartford, Connecticut on Wednesday, September 9, to protest the cancellation of the football season.
The Connecticut Interscholastic Athletic Conference (CIAC) announced the cancellation of Interscholastic 11 v 11 full-contact football in a September 4 press release. This decision was made based on the Department of Public Health's (DPH). recommendations. 
"With regard to CIAC's consideration of additional mitigation strategies for indoor girls' volleyball and football that may lower their risks for person-to-person respiratory droplet spread, DPH has suggested that CIAC consider modifications to higher risk activities, and we continue to encourage such modifications. Absent such modifications, DPH is unlikely to support higher-risk activities for the Fall term," the DPH stated in a letter to the CIAC.
Sophia Bottalico
Seniors across Connecticut prepared for their final season, while underclassmen worked to earn a spot on the team. The high school football team began at-home workouts in early May and team training in early July. After months of practice, the CIAC press release made it clear that the football season they longed for was not happening. 
"The cancellation came so abruptly to the whole state of Connecticut; it was heartbreaking to me and all of my teammates. Despite this, we have all continued to practice as a team, work hard, and prepare in hopes that our season may be reinstated. Although games may not be played this fall, the FHS football team and family still remains, and we all look forward to getting better every day," senior varsity football captain Finn Sposato said.
The near 1,200 people who attended the football protest similarly portrayed both the heartbreak endured from the cancellation and the commitment to stand together as teams.
Just hours after the football protest, Governor Ned Lamont called for a meeting between the DPH and CIAC.
"We have an obligation to all of our students, faculty, staff, and administrators to keep them safe, and I expect that goal to be the focus of the discussion," Lamont said.