Seguljic brings Indonesian life to Farmington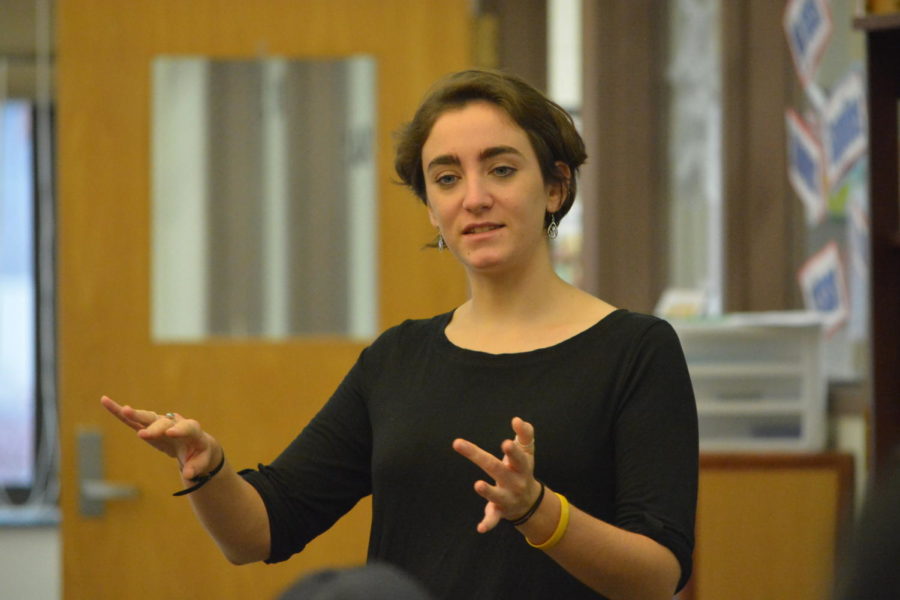 Kita Karna, Copy & Design Chief
December 23, 2017
  2011 alumna Corin Seguljic visited the high school on December 22 to speak about her experience in the Peace Corps. Each session during the lunch waves consisted of a presentation of her time in Java, Indonesia and a time where she answered questions from the audience.
  As one member of the 40 percent of the education volunteers, Seguljic has three goals to uphold to, one of which is to promote a better understanding of other international cultures and people to Americans. In order to uphold this goal, she reached out to social studies teacher Lance Goldberg to set up a time to spread what she has learned.
  "I kind of always had this feeling that I was very lucky in where I grew up, in my family situation. I got to go to a college, and I kind of put that in the context of the greater world and thought about how not everyone gets to go to college, not everyone has the opportunities that I have. So I really wanted to find a way to give back what I have taken from society, so the Peace Corps seemed like a really well-established way I can do that," Seguljic said.
  In her time in Indonesia, Seguljic co-teaches seven English classes with a native teacher. Since she works in a public high school, 70 percent of the students are females and most males attend a technical school within the area. Her responsibilities during the school day, include help planning classes and improving the teachers' and students' English skills.
  "In America, I see a lot more planning that goes into every class and part of the reason I have a job over there is to help push lesson planning and work with teachers on lesson planning for each individual class. The education system there is a little less formal than it is here, so a lot of teachers are interested in being very good friends with their students and here, teachers are more interested in imparting knowledge to the students," Seguljic said.
  Part of her training included learning the language and traditions in order to adapt to the way of life in Indonesia. One difference between the cultures in America and Indonesia is the inclusion within the community.
  "America is a very individualistic culture, however, within the [Indonesian] community culture, everyone wants to be socially engaged at all times. Everyone wants to engage with me at all times so sometimes it was a little exhausting, but with time I got used to it, and now I appreciate it," Seguljic said.
  One aspect of Indonesia is their emphasis on religion which plays a role in the school day and in their overall way of life.
  "I wake up to the call of prayer every morning. During the school day, there is a 15-minute break for the teachers, and the students to go pray. In terms of the collective community, everyone in my neighborhood is Muslim, and we celebrate any kind of activity together," Seguljic said.
  The presentation overall brought an aspect of international culture to Farmington focusing on the key differences of life between the two areas.
  "I never fully reflected on how different my life is compared to life in Indonesia or elsewhere in the world. It really made me think about what I take for granted and the opportunities I have on a day to day basis," junior Jess Rickis said.
  According to Goldberg, the Peace Corps is a way for students interested in immersing themselves into a community and culture and educating people around the world to do so despite the criticism that it spreads western values.
  "I think students are always looking for ways to give back to community or to serve their country and sometimes one of the only positions is serving in the military which doesn't appeal to everyone. Serving in the Peace Corps is a great way of serving our country and contributing to the good of the world," Goldberg said.