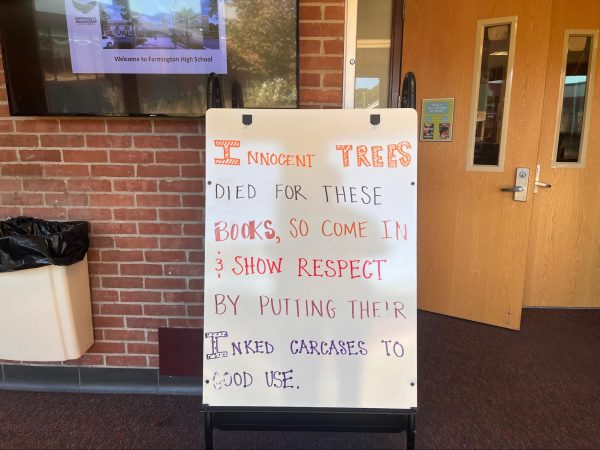 ---
The new library whiteboard glistens, reflecting the smiles of passerby students as they chuckle at the playful message. This whiteboard, responsible for the rise in joy, sits right outside the FHS library, uplifting the school community.
Though the whiteboard is not exactly new. During finals last year, the whiteboard sat in front of the library reminding students of study hours. This year, Mrs. Johnson, the school librarian, sought to create something more friendly.
"I noticed that a lot of bookstores have fun signs outside that, if nothing else, bring a smile to people's faces," Mrs. Johnson said.
The community response seems to agree. There are more smiling faces as well as positive comments towards the fun messages that are regularly updated. However, it is not only this whiteboard that has received praise.
There has been much positive feedback for Mrs. Johnson's other additions. One such addition is the use of bulletin boards to involve the community further. Posted on the bulletin board right inside the library are book recommendations from students and even teachers. This recommendation board is added to, with new appealing books showcased weekly.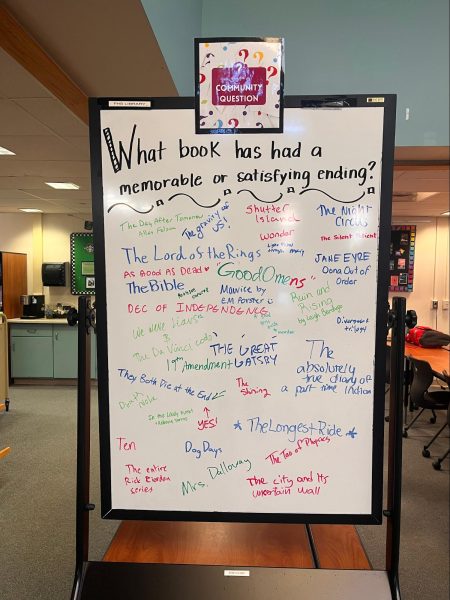 In the center of the library, she placed another whiteboard with a different community question each week. These questions typically inquire about book knowledge, creating a poll of varied responses. Even if you do not answer, you may find yourself curiously running along the list of answers, silently agreeing or disagreeing.
The whiteboards and bulletin boards are only the start, meant to spark the revitalization of the FHS library. Mrs. Johnson intends to make the library more than a place of books, but an intentional community for people to be comfortable and talk. 
"I know we have so many creative students at FHS, so I'd love if anyone at FHS has ideas or inspirations, I'd be happy to hand over the marker and board," Mrs. Johnson says. 
For the FHS library to continue to remain a welcoming place, more community involvement is surely appreciated. Providing feedback to Mrs. Johnson, suggesting community questions, and even just adding your own book recommendations are a great start.
"It makes my day knowing that I might have brought an unexpected moment of joy to someone," Mrs. Johnson says, "I hope the sign continues to spark joy and creates a moment where people at FHS can forget about their worries and long to-do lists and just smile."