In the summer of last year, current sophomores Eira Prakash and Victoria Pegkou-Christofi started their book-centered podcast Pagebreak. In each episode, they discuss what they've been reading and give their thoughts and recommendations on books and authors across different genres and categories. Episodes are about 20 minutes long, coming out every other Wednesday, and some past topics have been movie/ TV show adaptations of books, reviews of popular novels, and overall book discussions- just to name a few.
"In general, it's definitely more catered towards avid readers our age just because it's very much from our teenage perspective," Prakash said. 
The two put out their first episode over the summer, when they had a more flexible schedule with more free time. Working the podcast into their stricter school year schedules has pushed them to prioritize Pagebreak instead of forgetting about it. In continuing to push to make time for filming, editing, and publishing on top of everything else that comes with being high school sophomores, Pegkou-Christofi and Prakash have both learned valuable skills that carry over into other aspects of their lives outside of the podcast.
"I think perseverance is something that's extremely important. In the beginning, you're going to feel discouraged because even though you're putting a lot of effort in, you're not going to get a lot of followers. I think it's important to maintain a schedule where you continue to put dedication into something that you know you're passionate about instead of giving up on it when you don't see results," Pegkou-Christofi said.
"Aside from the technical skills, like how to edit, it's really just dedicating yourself to something and keeping it going even when you don't feel the reciprocation," Prakash said.
For other high schoolers interested in starting a podcast or similar project, the Pagebreak duo shared that the technical process was not exceedingly difficult, and that they work out any problems that come up through trial and error until they find something that works. Based on their division of the workload, they have worked through individual problems as well. Prakash says she does the majority of the editing, while Pegkou-Christofi does more of the advertising and pushing for outside interaction. These more technical points as well as the more content-based abilities gained through coming up with the actual topics and discussion within the podcast lead to a diverse skill set for both members of the team.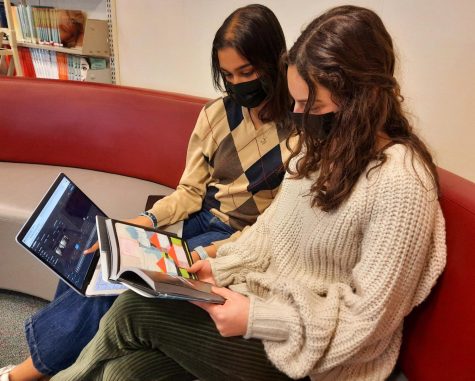 Pagebreak episodes are available on Spotify and all other podcast-inclusive platforms. You can find more about them at pagebreak.simplecast.com and contact the Pagebreak hosts at [email protected].