Boys' ice hockey shreds competition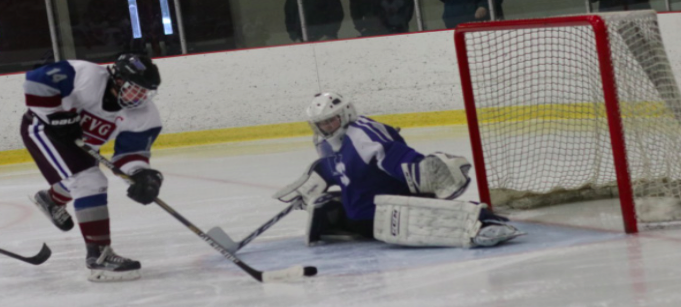 The Farmington Valley Generals (FVG) cooperative (co-op) hockey team, consisting of players from Farmington, Burlington, Avon and Windsor, have started off the season with a 10-2 record and are looking to continue the momentum throughout the rest of the season.
Led by junior captain Timothy "T" Arena of Farmington along with assistant captains Peter Hoffman and Danny Shayler of Avon and Sam Buchanan of Burlington, the Generals are look- ing to make their mark in Division II.
"Our team has three goals this season: be con- ference champions, make the playo s and win the state championship," Buchanan said.
The Generals are coached by Michael Barone alongside Scott Percival and Andy Tomarchio. According to Arena and Buchanan, all three coaches not only teach the players how to play hockey but also key characteristics to have throughout life.
After competing in a total of 10 games so far this season, the team has pulled out 10 victories, including a win over one of the highest ranking teams in Division II, East Haven, in an 8-4 win. The Generals have fallen only to East Catholic and Watertown-Pomperaug.
"The team is really starting off strong. We have good team chemistry and some really tough lines. Our passing and shooting is strong and the players are working hard in every game," freshman player TJ Erickson said.
Developing a strong team has been one of the main focuses of the Generals this year, especial- ly a er the loss of four players last year due to graduation.
According to Arena, developing a stronger defense is a priority after losing alumni defenders Michael Wissechuck and Andrew Arena. He believes this will be imperative if the team hopes to defeat competition this season such as conference rival E.O. Smith.
As well as being one of the top scorers for the Generals, Arena is using his nine years of experience to lead the team as the only captain this season.
"By the end of this year, our team has a goal of winning our conference and then making a run in the state tournament. We won the conference last year but lost to Cheshire in the state tournament so we are hoping to build on that this year," Arena said.
The Generals team is a program designed to give students from different towns the chance to play on a hockey team that would otherwise not be offered as a winter sport due to the lack of players.
Being made up of different towns, students on the team have the opportunity to not only be taught by three different coaches but to be able to play and form friendships with students from the different towns.
"Being a co-op [team] with Avon, Burlington, and Windsor, the Generals program has given me the opportunity to meet a lot of kids from other towns and become friends with them. In every other sport we are competing against each other so it's very unique to be able to play on the same team as them for hockey," Arena said.
According to Arena and Buchanan, the friendships made between teammates makes the entire experience different from any other high school sport.
"The friendships I make with my fellow teammates are everlasting. Everyone on our team is part of a brotherhood that will last forever. I am still great friends with graduated players who I only spent one year with and any [Farmington Valley Generals] member who will cross my path in the future is a friend of mine," Buchanan said.
According to Erickson, the Generals have created an environment where all are welcome and each player is treated with respect and is pushed to their highest potential.
"It was hard at first being new to the team and not really knowing a lot of the other players. But the coaches make us work hard and the older players set a good example. We spend a lot of time together so it's pretty easy to get along [with the other players] and feel [like] part of the team," Erickson said.