Robotics provides activities for students to dream FIRST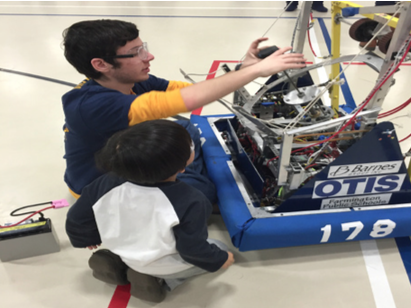 Bella Podgorski, Photography Editor
March 24, 2016
Members of the Second Law Enforcers Robotics (Enforcers) team traveled to Glastonbury for a Dream FIRST event on March 24. This event was held for the first time this year in Glastonbury and the Enforcers collaborated with the Titanium Tomahawks, Team 2170.
Over 10 different Dream FIRST activities were offered to the students, including the demonstration of the robot, experiments that the Enforcers designed and even activities such as face painting and solving puzzles that would keep the children engaged in learning about what the Enforcers do.
"It was so inspiring and helpful to have the Farmington Dream FIRST come because this is an elementary school, and the whole program is geared towards that age group," Glastonbury parent and coordinator of the event Wendy Smith said.
At the location of the event, there was also a science fair that was set up by the students in Glastonbury and the children were invited to attend the Dream FIRST activities that the Enforcers set up before, during and after seeing all of the displays that were available. The event brought over 200 attendees, one of the largest Dream FIRST events the Enforcers have held while collaborating with another team.
"My favorite part about this event would be the one-on-one contact and the connection we get to make with the students. I have learned the names of at least 20 children at this event, many of whom returned to my station to play with the robot a little more. They asked questions, their parents asked questions, we made connections with them, and I think that it made a legitimate impact on their lives," senior and team captain Nandan Tumu said.
Dream FIRST is an outreach program that was developed by the Enforcers in 2003 which started with a children's book about the team's first robot, Gizmo. These events are held throughout the Robotics season, including the annual FIRST LEGO League Junior (FLL Jr.) Expo at the high school that is the biggest FLL Jr. Expo in the state if not all of New England.
"The fact that we have such a great program from K-12 and enthusiasm in STEM [is great] and being able to bring it to other places where they're just starting programs, Glastonbury just started their program, and we go to places like Ansonia and try to inspire those places to establish new programs," math teacher and coach Michele Hall said.
According to Smith, she would love to see Glastonbury continue to do more community outreach events like the Enforcers do.
Director of Community Outreach senior Megan Go said, "I am happy to see other locations start holding these events from being inspired by what The Enforcers do and working to inspire others as well."