Popolizio personifies leadership on and off the field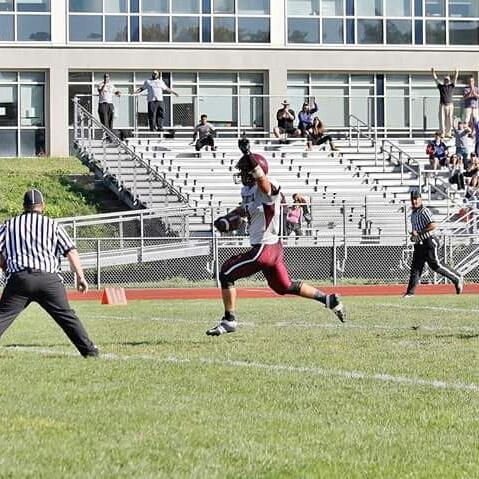 Senior Michael Popolizio makes big plays on the football field, seen by his team leading three and a half quarterback sacks and three receiving touchdowns. However, the six foot, two inch defensive end and tight end is much more than just a prime time performer for the team but a leader. Popolizio was named one of three positional captains before the season by head football coach Christopher Machol for a multitude of reasons.
"We selected our captains by choosing a leader for each of our three groups – 'Bigs, Combos, Skills' – in the combo group Mike was the player with the best combination of character, leadership skills, and varsity experience. We knew that Mike would be a player that others on the team would listen to and respect and would represent the team well off the field," Machol said.
Popolizio played a key defensive role his sophomore year for a playoff team and was the starting quarterback on last year's varsity squad before changing to tight end this year.
His favorite part about playing football isn't the physical aspect of the game, but rather the social connections that he has made throughout his career.
"My favorite part about playing football is the friendships that you form on the team. There is nothing that can compare to it. You battle everyday against each other pushing your teammates to get better. Then at the end of the day you laugh and joke about the events of the practice or game," Popolizio said.
Sophomore Luke Popolizio also plays on the football team and has a special relationship with his older brother.
"I look up to him because during in school and out of school activities, he comes early and stays later to better his understanding and his ability to accomplish his goals. Also, he always takes time out from his day to help me in whatever I am doing. Even if he is having fun with his friends, he will stop and help me," his brother said.
He has also pushed his younger brother to be the best person that he can be by setting an example for him.
Popolizio credits his success to his dedication to the sport and keeping his body conditioned and ready for game day as well as his undying love for the sport.
"What inspires me to play football is the love of the sport and how much the team can achieve as well as me personally. It is really incredible to watch the progression of the program and kids that are apart of it," Popolizio said.