Diving into a new season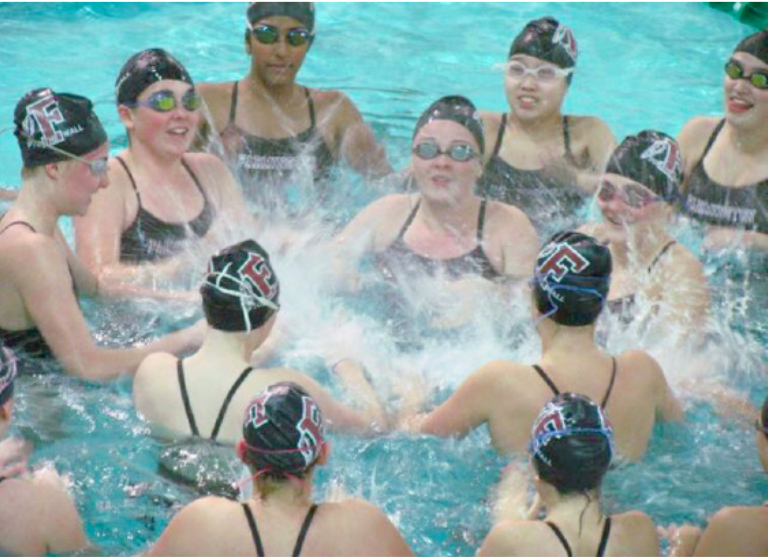 Bella Podgorski, Photography Editor
October 30, 2015
   Starting out the season with a focus on individual improvement and teamwork, the girls' swim and dive team is ready to face and conquer challenges together. Led by senior captains Katie Rhee, Sammy Kallman, Sarah Schwarm, Natalie Lux and Shannon Connolly, the team is hoping to have a successful season.  Swim and dive coach Scott Ferrigno has coached for 26 years and is looking forward to helping new swimmers learn and watch experienced swimmers grow.
  "We don't have a lot of experience on the team. With that being said, the pros are that we have a ton of intense, driven young ladies who are working very hard, and we are seeing their times drop. So I enjoy the toughness of a good percentage of the team, so that's always fun to work with and to challenge them," Ferrigno said.
  Ferrigno embraces the attitude of the team and recognizes that the lack of experience is beneficial to creating an environment that helps the girls improve both as swimmers and overall athletes.
  "The challenge is to make athletes out of kids who might think they are not athletes. You know it is to really raise the level of expectation within the team and to get people at a competitive level, whatever that level is, get them at a level where they are competing at the highest that they can compete and make us a competitive program," Ferrigno said.
  Kerry Laberge, mother of sophomore swimmer Avery Laberge, has been supporting the swim and dive team since her daughter got involved and has nothing but a positive outlook on the team.
  "The FHS girls' swim and dive team is a great team to support because of its inclusive nature. There are girls of all abilities that are welcomed with open arms to the team. At each meet, the fans can see both the new and the veteran swimmers alike improve noticeably. That's a big thrill for the team's followers," Laberge said.
  The team's camaraderie is valued by all, from underclassmen to senior captains. Through pasta parties, the "swim sister system" and cheering each other on during meets, they motivate each other.
  Kallman has been a part of the swim and dive program for four years now and has been swimming competitively since she was three.
  "It's different than any other team at the high school. I've been a part of it for four years now, and I feel like we have JV, and we have varsity teams but we don't really separate. We have pasta parties all together, and we have swim sisters all together, so its like you have one team," she said.
  First-year swimmer sophomore Victoria Ballet was initially skeptical about joining the team but has now grown to love the team and sport. She describes the team as "a judge free zone" and notes how they help her both physically and mentally.
  "If you mess up no one is going to judge you for it, and when you do actually something good, they are going to congratulate you," Ballet said.
  Senior captains try to bring the team together by meeting in the locker room before each meet. Their pep talks focus the girls to channel their energy and nerves into their swimming or diving. Sometimes, there are challenges during the sport, but the team encouragement and positive mindsets help these swimmers achieve.
  "In practices, I try to encourage the other divers to challenge themselves, overcome their fears and learn new dives. During meets, I cheer for my teammates at the end of their lanes and congratulate them when they finish their races," Rhee said.
  While the team anticipates challenges during their season, they will only use them as sources of improvement and hope to see their times drop. The team faced Conard High School, one of their main rivals, on their senior night on October 20.
  "I have been anticipating this meet from the moment I got the schedule at the beginning of the season. Conard is a big rival of ours and to compete against them on such a special day is going to create a great atmosphere," Rhee said.
  Despite any upcoming challenges, the team will attempt to look at them as an opportunity to grow and improve. The team's positive atmosphere pushes the girls to swim and dive their best.