Robotics team enforces the code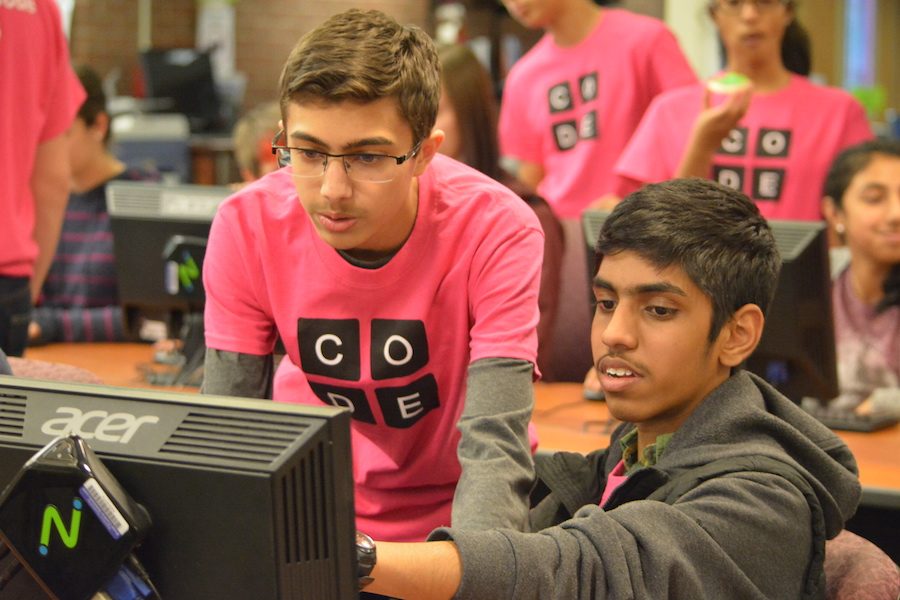 Kristy Pan, Editor-in-Chief
December 8, 2016
Prior to the build season taking place, the high school Robotics Team, The Second Law Enforcers, held their annual Hour of Code event (HoC) at the high school on December 7. Taking place after school, both students and teachers attended this event.
Hour of Code is a global effort to to introduce computer science and programming to students and teachers who don't have access to these programs of a frequent basis.
"The main purpose for being a part of FIRST is spreading science and technology and STEM to the community, and Hour of Code is a natural fit as it naturally spreads information about science and technology to other people who are interested in learning about it," Robotics coach Michele Hall said.
This year is the third year that the high school Robotics team has held this event at the high school and each year has more and more students, teachers and community members involved in the event.
"The Hour of Code breaks down coding and presents computer science in simple, yet fun, activities. There are several levels of difficulty so it is geared towards anyone of any ability," 2016 alumna Megan Go said.
Different stations included Quick and Fun Challenges, Calculator Encryption, AppInventor, Light Bot, Flappy Bike, Frogger and other activities and were available for interested people to try out.
"Hour of Code introduces the concept of coding as something that isn't as intimidating as it would be being thrown into a classroom scenario," senior Alok Murthy said.
Those who participated felt as though they learned something valuable.
"I enjoyed learning the basics of coding from some very knowledgeable and patient students who guided me through the activity.  I felt a sense of accomplishment as I created my own website, and the students who assisted me were wonderful teachers," Principal Bill Silva said.
However, what some enjoyed most about the event was the leadership demonstrated by the Robotics Team and their commitment to making the event a success.
"I think it went very well. We had over 28 volunteers involved in planning it and running it, and one of the things I like best about it was that it was all student planned and led," Robotics coach Tim Barron said.
In addition to this event that took place after school, there will also be a day long HoC opportunity during the school day in the library on December 9, which will present students and teachers the opportunity to partake in this event if they were unable to attend after school.
An HoC event was also hosted at West Woods Upper Elementary School and Union School on December 8. At these events, Angry Birds, Minecraft and Star Wars were other activities that were available to the younger students to get them engaged in coding.
"My favorite part of this event is interacting with younger kids at West Woods who are excited to learn this kind of material. Their impression of the concepts involved in coding hasn't been developed as much, as they don't have as much access to these types of programs," Murthy said.