@1FarmingtonHS tweets school life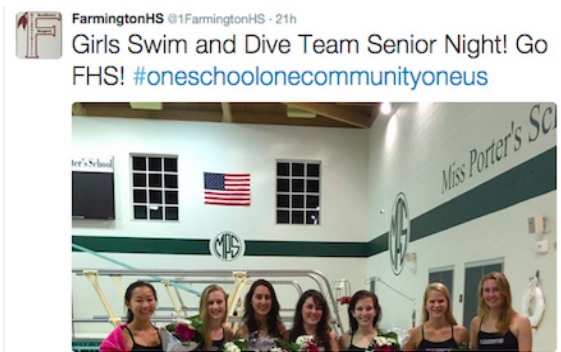 Principal Bill Silva has created a new Twitter account, "@1FarmingtonHS", that has been and will continue to be updated for the high school.
  The account was created at the beginning of the school year and has been in use ever since.
  According to Silva, the idea for the account started through Positive Behavior Intervention Support (PBIS). The account is one of the tools designed to enhance the positivity of the high school, and keep the slogan "One School One Community One Us" public for people to see.
  "I think that there is a lot of positive stuff that goes on that people aren't aware of and that will inspire them and show them the type of school we are and the positive aspects of what happens at the high school," Silva said.
  It is currently used to promote the school and let community members see what positive things are happening. However, it is not to be used as a substitute to the school website, student emails and other means of communication.
  "I think that the new '@1FarmingtonHS' will help students, faculty and parents to hear about all of the positive things that are happening in the FHS community. It is a great way to digitally get into each other's classrooms, see what students are experiencing each day, and in general stay connected," Math Department Leader Laura Lanza said.
  As of October 26, there are 132 followers including teachers, students, parents and community members and that number is expected to increase.
  "It's nice to see [the Twitter account] spread out and spread around. I certainly want to keep it up and I really like going around the building doing what I do on a daily basis to kind of see something and take a quick picture," Silva said.
  Posts in the past have included inspirational quotes and photos from events, activities going on during the school day, sport games, and other activities that show a part of the school most people don't get to see.
  Junior Catherine MacKay said, "I think that it's pretty cool that our school is keeping up with the times and I think it can be a good way to get the word out about our school events and information."