AirPods pro provide quality, but at a cost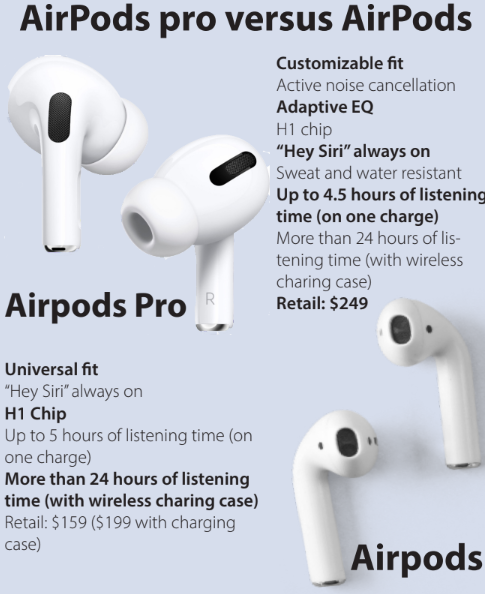 Met by both fanfare and backlash, Apple released the AirPods pro on October 30. Priced at $249, this is an upcharge compared to the previous model, which retailed for $159, or $199 with the charging case. Given that the pros come with a charging case by default, they retail for about $50 more than the previous edition.
The AirPods pro have a new noise canceling mode, as well as a transparency mode. The noise
canceling feature is not new to headphones; however, this addition is new to the AirPods line.
Overall, this feature is solid, especially because this is not only a new addition, but AirPods are in-ear headphones. Traditionally, noise canceling has been exclusive to over or on-ear headphones, not earbuds. As a result, some may prefer the Beats studio headphones, that have superior noise cancellation, but also a heftier price tag at about $350. Noise cancellation is not perfect, especially in the presence of a loud, close noise, but it works very well when blocking out the majority of background noise.
The new transparency mode is also very intriguing. Transparency allows the listener to both hear their music, and the world around them simultaneously. Transparency can be very useful, but also similar to noise canceling if a loud song is being played. Overall, the user should experiment between the two.
The pro iteration of AirPods also comes with a new design for both the earbuds and the
case. The pods are now shorter, and curve at the tip to allow for a tighter seal, leading to more effective noise cancellation.
Also, the buyer will receive three different size ear tips to also provide a tighter seal. The sizes
are small, medium, and large, and the user can conduct a fit test in their phone settings to help them determine which size is most effective. On the exterior, the pods have a decently sized black bar. This bar allows for sound to travel into the users ear when transparency mode is enabled.
The case is now wider, and shorter than the previous cases, it looks like taking an old case,
stretching it slightly, and rotating it. Additionally, the case charges the pods when they are
inside it, and the case can be charged with a regular phone charger. Despite this, the pods come with a lightning to USBc cable. AirPods pro are designed to last about four to five hours when fully charged, and supposedly last for one hour after being charged for only five minutes.
AirPods pro are quality earbuds, but for users who already own an older AirPod model, they likely aren't worth the upgrade. But for those are finally ready to purchase a pair, AirPods pro are a solid purchase that should provide quality music enjoyment for a considerable amount of time.