Tamagotchi revival after 20 years comes to new generation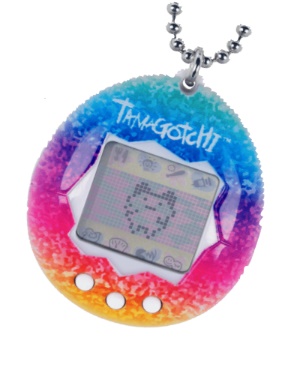 Madison Muszynski, Staff Writer
November 1, 2019
Last year, the Japanese company Bandai released a new and improved version of one of their most popular toys: Tamagotchi On.
The 1990s classic handheld gaming device was rebranded to fit a more modern aesthetic. Now instead of a simple black and white screen and a keychain attachment, the new model incorporates color throughout the design both on screen and on the case, encapsulating the "kawaii" vibe that the original game had been trying to represent over 2 decades ago.
While the design may be different, the setup is very similar. Both share a small egg-shaped silhouette with three buttons on the bottom of the screen (labeled A, B and C) for different controls. The screen is still relatively small compared to the technologies introduced since the original Tamagotchi's release, but its purpose remains the same: it's a small handheld device in which you take care of a multitude of different Tamagotchi characters.
The biggest difference is the price. The original Tamagotchi sold for about $18; Tamagotchi On is now being sold for $60. If $60 for a new generation of Tamagotchi gameplay does not sound appealing, there is an alternative option. On both iOS and Google Play, My Tamagotchi Forever! is free to download. It has
the same basic functions of the handheld game, as well as some new goal-centered activities. The new introduction with jobs for the adult-stage of the Tamagotchi also gives the incentive to complete
certain tasks in order to obtain it. Once completed, a reward is given as well as obtaining a new Tamagotchi egg. Not only that, but there is a new feature in which you can visit the past Tamagotchis in a new apartment-type section of the world.
There are many ways to gain rewards in the form of coins, diamonds, quirky costumes, and new items
to place around the Tamagotchi world. You can use these rewards to treat your pet to some exotic foods,
new decor, and more activity sets for the outside world.
Tamagotchis need to be fed, bathed, put to sleep,and made happy. On the app, there are four bars at
the bottom of the screen at all times representing all of these needs. The only big difference when comparing the app to the handheld game, your Tamagotchi cannot die from lack of care, or from old age.
While the nostalgia factor may not last long for those who had the original game, this new app is for the new generation of players who love the cute, monster-like characters and taking care of them.