Seniors take on last prom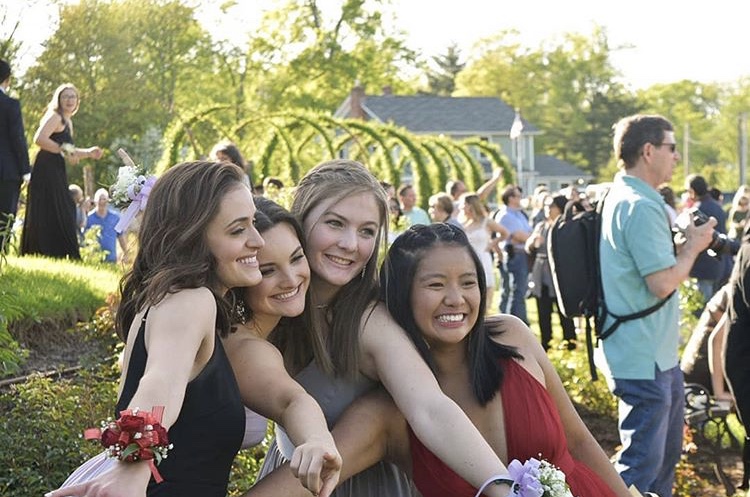 While the end of the year is approaching, activities have started for seniors. From classes starting to wind down and the thrill of graduation approaching, seniors are preparing for their last events and activities in high school, starting with senior prom, which took place on May 18 at the Hartford Marriott Downtown.
The Class of 2018 Student Council worked closely with the staff at Hartford Marriott to ensure that seniors would have an enjoyable time at their last high school prom. They were able to choose food options ranging from Chicken, Pan-seared Salmon, and Vegetable Napolean, a vegetarian/vegan option.
"The student council and I thought the Hartford Marriott was a great place to hold the prom because of its large seating area and the general location was easily accessible. It seemed like everyone had a great time, and it was definitely an enjoyable night for all seniors and their dates," senior Katie Siuta said.
To start the night, seniors first entered into a lounge area where small snacks and beverages were served. This served as a mingling hour prior to the dining and dancing.
"I thought the lounge area was really cool; we had the chance to see and talk to everyone before getting into the crazy scene of the music and dancing," senior Mia Grzywinski said.
Following the mingling hour and dining, students made their way to the dance floor to continue into the late night. While most of prom was centralized around dancing with friends, there was also the announcement for prom king and queen.
Seniors Elise Dudley and Sam Martin were crowned prom king and queen and shared a dance together while the rest of the class formed a semi-circle surrounding them.
"The prom was so incredible this year, and seeing everyone having fun
was such a wonderful experience. I am incredibly honored that our friends and peers voted for us. It was really sweet to be able to have that kind of moment, and I am very appreciative," Dudley said.
As the year winds down, seniors are coming together and spending their last moments together as a class before graduation on June 12.