Seniors vote Monaghan as graduation speaker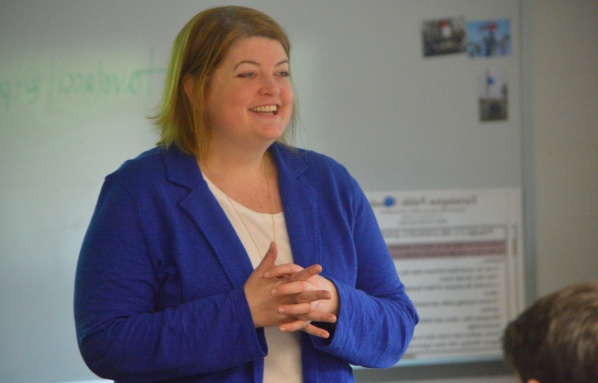 After being selected through a senior vote, social studies teacher Meg Monaghan will be delivering the commencement address to this year's graduating class. The announcement was released on May 3 over the 9:05 News.
Monaghan is most well-known for her role as an Advanced Placement United States History (APUSH) teacher; thus, she taught a number of students from the Class of 2019. Prior to teaching APUSH, Monaghan had taught World History II Honors and at the alternative high school. Monaghan started teaching at the high school in the fall of 2015 after about eight years as a college professor teaching at the University of Connecticut, University of Georgia, and University of Saint Joseph.
Monaghan has expressed that though she is nervous she looks forward to expressing her pride in the senior class, as it is a special opportunity to let them know how much the faculty will miss them.
"I think that I was selected because I have taught so many of the current seniors. I had many of them as sophomores and then again in AP seminar. Some of them I taught for two years. To a certain extent, I think that pure number of students was the biggest factor, but I have also really bonded with this incredibly sweet and impressive class," Monaghan said.
The commencement address is a longstanding tradition, and students look forward to the speech. Though she is unsure of what she wants to say, Monaghan does know she wants the speech to come off as genuine and sincere. She also plans on including some of her famous "corny jokes."
Monaghan noted that being a teacher is a huge part of her identity and sharing her passion for her students will be important in the writing process of her speech.
"Being a teacher means everything to me. It is a huge part of my identity, and it is very important to me to be a good role model for [students]. My students also make me very happy. I laugh all day long, which is amazing," Monaghan said.
In addition to her work as a teacher, Monaghan works with the girls' leadership club, BRAVE. The BRAVE group has had several goodwill events around the school, including giving free baked goods to the school to spread kindness and even sending a girl in a third world country to school last year. An avid feminist, Monaghan is known for her role in encouraging female students to achieve at high levels and take up leadership roles in their communities.
"I love that Dr. Monaghan always teaches history from multiple perspectives and makes sure to always include women in the narrative. It is really empowering to be able to learn about the role of women in America's history," senior Reya Kalaiarasa said.
Monaghan is a well-liked teacher and many seniors who have not taken her classes or participate in her clubs still know and admire her. She is known for providing advice, guidance, and a place for students to discuss their lives.
"Dr. Monaghan changed my perspective on so many things and taught me how to stay strong and true to myself during hardships. I love and appreciate her so much, and I am very excited to see what she has to say at graduation," senior Victoria Bouchard said.
Monaghan not only impacts her students but also the teachers she works with. Monaghan was hired alongside social studies teacher Patrick Mulcahy in 2015, and Mulcahy attests that Monaghan has had an impact on his career as a teacher.
"Dr. Monaghan is an inspiration to everyone that meets her. Her infectious energy and her wealth of experience make her the perfect person to bounce new ideas off of. On top of that, she is genuinely one of the kindest, most sincere people I have ever had the privilege of working with, and I know many of my colleagues share the same sentiment. The students adore her, and there is nobody more fitting to deliver the faculty graduation speech for the Class of 2019," Mulcahy said.
Graduation will take place on June 12 this year on the turf field. The class Valedictorian and Salutatorian will also give speeches amongst some others.