Retiring faculty, staff move on from high school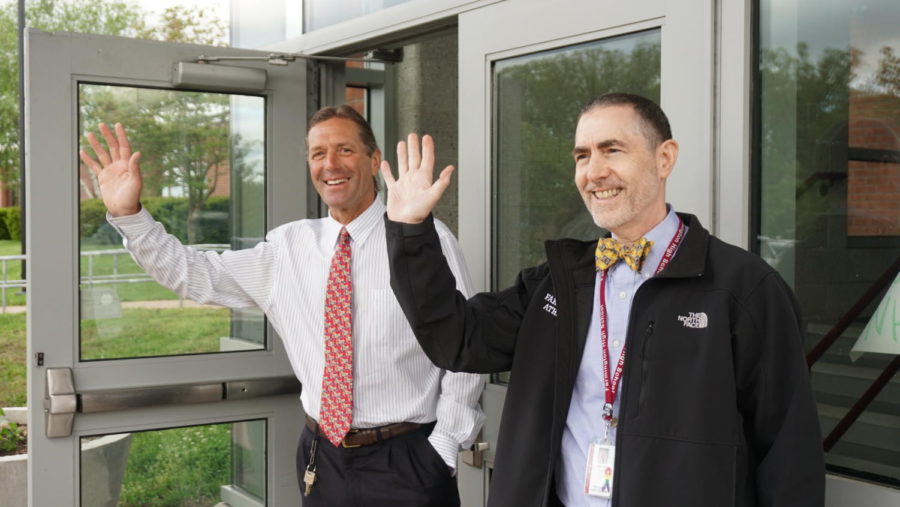 As the school year comes to a close, it is time to say goodbye to the retiring faculty and staff that will be leaving the high school. Among them are the school's principal and assistant principal, as well as various faculty and staff members.
Principal Bill Silva
After 20 years of teaching in a classroom, the last place Principal Bill Silva expected to end up was in the principal's seat. His six years at the high school as principal followed an assistant principal job at Lewis Mills High School in Burlington, Connecticut in addition to his 20 years teaching in Berlin.
A highlight of Silva's day includes greeting students at the Student Entrance every morning with other faculty and staff members, an action that may seem small, but to Silva has had one of the biggest impacts.
"The thing I will miss the most, while rather small, are the day to day interactions that I have with students, with my colleagues, faculty, and staff. Those opportunities when I greet students in the morning or go to a game or an event or informal times when you can really connect with people and build those positive relationships are what I'll miss the most," Silva said.
As principal, Silva is immersed in many clubs and activities at the high school. He works closely with the Principal's Advisory Club, the Executive Student Council among others. Executive President senior Kieran Mangla has appreciated all Silva has done for the school and the students in his years at the high school.
"Besides his signature bow tie and his warm greeting every morning at the Student Entrance, the school community is going to miss Dr. Silva's enthusiasm, compassion, and willingness to put himself out there. Dr. Silva has always put the students' voices first and is very open to change; [he is] constantly looking for student feedback and suggestions to make FHS the best it can possibly be," Mangla said.
Silva has made numerous plans for his future, ranging from traveling around Europe for his son's wedding in Croatia to volunteer work. He plans on being involved in the educational field in one way or another and is excited to see what the next chapter of his life holds.
Assistant Principal Curt Pandiscio
Another familiar face from is preparing to say goodbye, as Assistant Principal Curt Pandiscio wraps up his 25 years as an administrator at the high school. Pandiscio is responsible for making sure that the school works for the students and teachers, which includes making the master schedule and working to offer courses that students are interested in.
In the mornings, Pandiscio can also be found at the Student Entrance with good friend and colleague Silva, greeting the students as they arrive to school, or walking around school checking in with teachers and students.
"I think I will miss the energy, excitement, enthusiasm, and the pulsating humanity that 1200 teenagers create. There is nothing quite like a big high school in full bloom. You just feel the unlimited possibilities of the students, and it's invigorating," Pandiscio said.
Fellow Assistant Principal Lisa Kapcinski has worked closely with Pandiscio and will miss her close friend and colleague.
"[The school will miss] his endless energy and creative mind. Mr. P. is an excellent problem solver and an innovator who always puts what's best for kids at the center of his decision-making. He has been the driving force behind many of the innovative practices that we have accomplished as a school, [and] on a personal level, he has been a wonderful mentor and a good friend. I will miss all the fun we've had working together," Kapcinski said.
Pandiscio is looking forward to spending time outdoors in the mountains with his wife, as the pair plan to build their dream house in New Hampshire. He also hopes to be involved in volunteer work in the future.
Library Media Specialist Nancy Carlson
A prominent figure will be leaving the library as Library Media Specialist Nancy Carlson will be retiring after 15 years of working at the high school. Carlson took over full time in 2011 after learning under close friend, the late Department Leader of Library, Media and Technology K-12 Martha Burr.
"My favorite memories are the years I worked with Mrs. Burr. She was my mentor and became a very good friend. I never wanted to work in a high school. I was supposed to be an elementary teacher, but things have a way of changing. Mrs. Burr was my role model of what a teacher should be. When asked what she taught, her answer was that she taught students," Carlson said.
Carlson has passed her expertise and love for the library down to one of her close friends and colleagues, library clerk Betty Manos.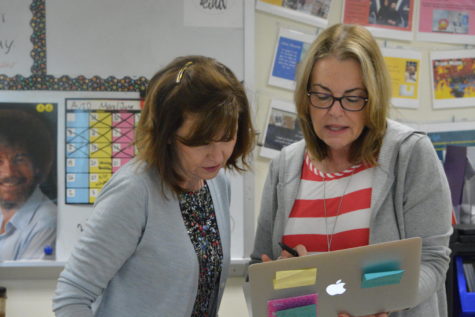 "Mrs. Carlson has an easy going personality- especially with the students. I will especially miss how she would remind the students to sign in to the library kiosk by saying if they did, she would get extra credit bonus points. I've learned a lot just by working with her so I will miss all those opportunities," Manos said.
A Mediterranean cruise and a trip to Yellowstone national park are two of the many travel plans Carlson has booked for her and her husband. She is also looking forward to spending more time with her grandson who was recently born in January.
School-to-Career coordinator Kristi Ohanesian
  The creation of the School-to-Career program at the high school began 20 years ago, and School-to- Career Coordinator Kristi Ohanesian has been here since the beginning of it all. She helps students explore possible careers and find real-life experiences.
"I have many wonderful memories but kayaking with the Alt. School and a senior prank involving crickets are the two that come to mind," Ohanesian said.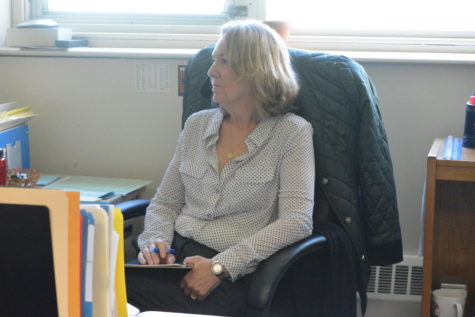 Close friend and colleague Ursula Fraley has worked with Ohanesian for almost 14 years and acknowledges all of the work Ohanesian has put into the high school's various programs.
"As the coordinator of Extended Learning Opportunities, Mrs.Ohanesian helped students make connections in the community for internships, job shadows, capstone placements and various career-related experiences. Over the years students benefited from all the opportunities Mrs. Ohanesian arranged for them. It has truly been a pleasure working with her for all these years," Fraley said.
Ohanesian is looking forward to welcoming her first grandchild in the fall, as well as being able to go to the gym at 7:00 a.m. instead of 5:30 p.m. She hopes to be involved in some public health consulting work, as well as make travel plans for her coming retirement.
Special education teacher Emmalee Smith
After 16 years of working in Litchfield, special services teacher Emmalee Smith brought her work to the high school, where she has been working with students for the past 10 years. In addition to working in the Learning Center, she also helps co-teach Algebra I.
"I really will miss working with kids, working with students. Watching a student really get something or understand something and watching that light kind of shine from them really makes your day. With adults, it's just been the fun times with my department. We are all great friends both inside and outside of school, and so it's just fun to spend time with them and laugh about things that have happened," Smith said.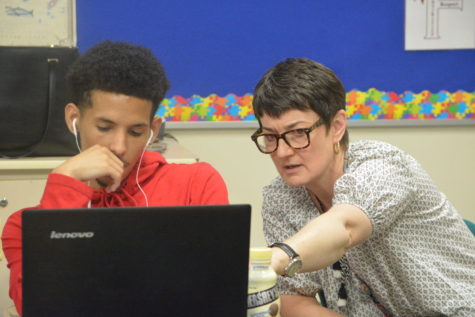 Smith's work and influence has extended far beyond the classroom. Her advice and support has impacted students in all aspects of life.
"[Mrs. Smith is] the type of teacher that changes the lives of her students and teaches them lessons that help shape their personality. The lessons she taught me about resilience, advocacy, and how to keep it together, have made me into a better person this year, as well as a better student," sophomore Olivia Pare said.
Smith will be moving down to Florida to be with her husband and hopes to do some volunteer work, whether it be tutoring or helping out in a school. The pair has already booked a trip to Scotland and Egypt and are excited to see what else the world has to offer.
Band teacher Tom Johnston
The Music Department will be losing music teacher Tom Johnston who is retiring after 35 years conducting the high school's band. Johnston has had the chance to travel abroad with the band to Ireland, Montreal and Quebec, Scotland, England and dozens of trips to Disney over Spring Break. Johnston has attested his success as band teacher to the students in the music program and his team.
"To be an arts teacher my whole career and having had a really flourishing program for that entire time, I just hope that will continue after I leave. My big hope is that [this program] continues moving forward," Johnston said.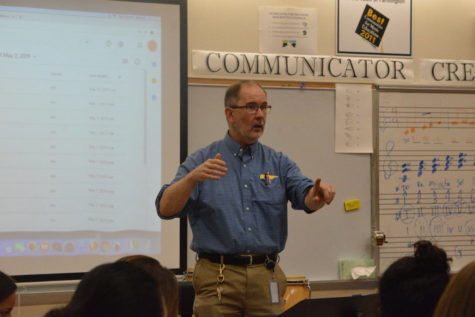 Over his 35 years, Johnston has had the chance to impact numerous students' high school experiences through their shared love of music.
"Mr. J has been an inspiring mentor in the band program. He has taught me that hard work and determination allow me to succeed in anything I put my mind towards, a lesson I have remembered not just regarding music, but throughout all of high school. His lovable quirks and expressions and the huge smile on his face makes band something to enjoy and look forward to everyday. Mr. J has been an unforgettable part of our high school experience, and FHS will truly miss him next year," senior Rohit Limaye said.
Johnston hopes to be able to play more professionally and offer more private lessons. He is also looking to find a part-time job at a private school in the area to be able to continue sharing his love of music.
Art Department Leader Julie Sawyer
12 years of teaching various art classes throughout the district will be coming to an end for Art Department Leader Julie Sawyer. Sawyer has taught art classes including Crafts, Unified Art and Digital Design I throughout her 10 years at the high school; her first two years of her 12 had been at Irving A. Robbins.
"I loved taking students on trips to Europe; watching my Crafts Capstone students make global connections and raise money for artisans in developing countries through their work and developing the Unified Art program with wonderful colleagues. I have been so fortunate to work with such dedicated, innovative, and thoughtful teachers and artists. My colleagues here have been so much fun to work with," Sawyer said.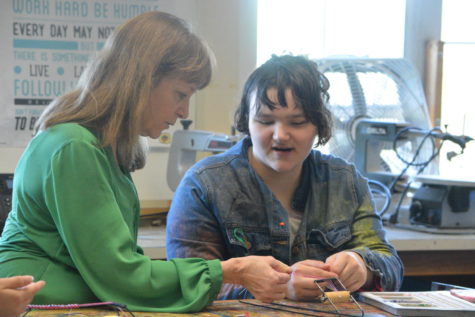 Sawyer works closely with the Friends program at the high school and teaches Unified Art. She has been able to create a safe and loving environment for the Friends as well as their partners.
"What I'll miss most about Mrs. Sawyer is the environment she brought to life through the Unified Art class. She created a culture for the students, especially the [Friends]. When you see Unified Art and then you see other electives, there is a clear difference in the work done and the
relationship between the students and the peers; that's due to Mrs. Sawyer's efforts in creating a fun and interactive space while also keeping an inspirational spirit," junior Rachel Meier said.
Sawyer plans on continuing teaching online for University of Massachusetts Lowell and Tunxis Community College. She is most looking forward to spending more time with her two granddaughters, Zuri and Jovienne.
Math tutor Jake Auger
Coming off of a career in the financial services industry, math tutor Jake Auger jumped at the chance to combine his love of math and working with young adults when the math tutor position opened up at the high school. 10 years later and Auger has been here longer than he anticipated due to his love of the school community and his work.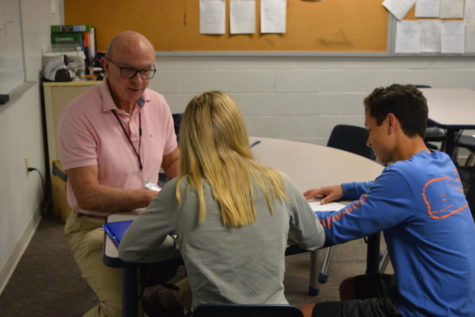 "I'll miss the students mostly. While my job is to help students improve their math skills, the real reward comes from the personal relationships that are developed over time. That is what got me up in the morning and coming back for 10 years," Auger said.
Auger has accomplished more than simply helping students with his math work. His knowledge and advice has helped students in all classes.
"I think the school will miss his amazing intelligence in the mathematical field. He impacted my work ethic, not only in math class but in all of my academic classes. He has taught me that it's okay to ask for extra help from a teacher and ask a lot of questions instead of asking none," sophomore Soonbee Kwon said.
Numerous travel trips have already been planned for Auger and his wife, including trips to Lyons and Provence in France, Charleston and Savannah, and trip to Disney World with his grandchildren. Auger is most looking forward to spending time with his family and becoming more active in his church community.