First Spring Pep Rally Seeks to Start New Tradition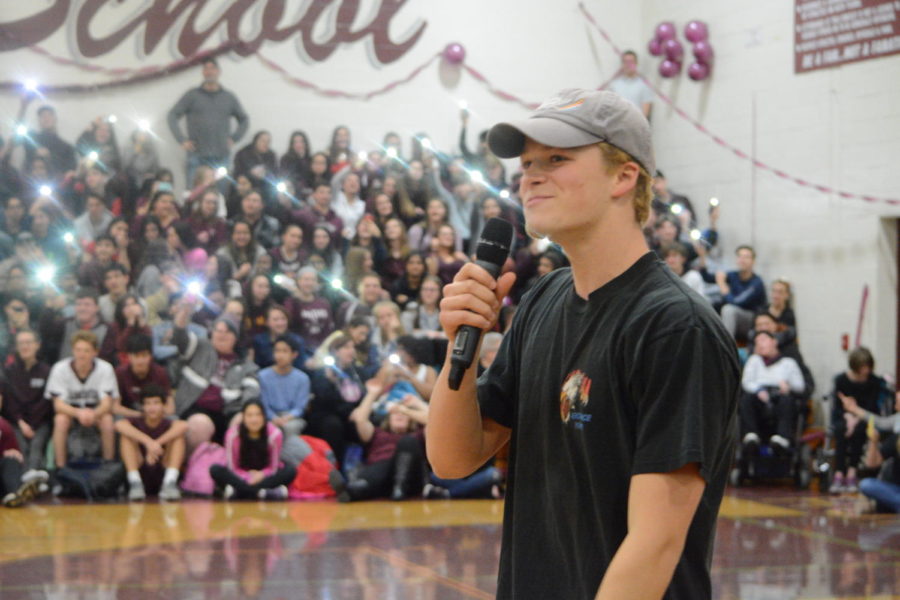 The Spring Pep Rally took place on Friday, March 29 and featured four hosts, senior Brennan Hughes, junior Frank Fishman, sophomore Claire Brouillard, and freshman Nicholas Duncan, who represented each of the four classes. Students and staff members gathered in the large gym at the end of the school day to participate in the celebration. According to executive president Kieran Mangla, it is the first time the high school has ever hosted a pep rally in the spring. 
In the days leading up to the pep rally, members of the high school community participated in a spirit week, which included America Day, Twin Day, College Gear, Throwback Day, and Class Colors.
"The idea of the first ever Spring Pep Rally at FHS allowed us to think of a new, outside-of-the-box event while still keeping with the main theme of school spirit and class pride. Everyone has fond memories of the fall Pep Rally each year, so we wanted to translate that excitement and that energy into a Spring Pep Rally," Mangla said.
At the beginning of the pep rally, seniors ran into the gym to the AC/DC song Back in Black. The hosts recognized the winter and spring sports captains, members of the robotics team as well as retiring staff members. For the event, the four hosts dressed up as members of the band KISS before changing into the costumes of a barbershop quartet.
The event also featured a lip sync battle in which members of each class competed with each other to popular songs like Take Me Home, Country Roads and Bohemian Rhapsody, a trivia contest that pitted alumni of the high school who now serve staff members against a member of each grade, and a three point shooting challenge. The event concluded with a celebration of the Farmington boys basketball team's state championship victory.
Mangla and pep rally host Nicholas Duncan recognized that the time constraints on the pep rally presented a challenge.
"The activities were fun and I think if we had more time for the pep rally, we could've made it better," Duncan said.
The executive student council chose the hosts through auditions that were held after school, and the hosts collaborated with the executive council to plan the event.  
"I wanted to host the pep rally because I thought it would be fun. I also wanted to represent my class to the school and do everything I could to make it an enjoyable for all the students," Duncan said.
Mangla believes that this pep rally was a good start to a "new school tradition."