Boys basketball wins first-ever state championship
On March 17, the boys basketball team defeated Amistad 55-45 in the Connecticut Interscholastic Athletic Conference (CIAC) Division III State Championship at Mohegan Sun Arena to win the first state championship in school history.
Despite the victory, Farmington struggled early. According to junior tri-captain Grayson Herr, although Farmington held a size advantage, the team was caught off guard by Amistad's speed.
According to Herr, initial nerves and playing in an arena made it difficult for the team to get off to a strong start. They went into the second quarter down 25-16, and a halftime adjustment was needed.
"The vibe and energy in the locker room was not one of a championship winning team, so I thought we desperately needed
to change that," sophomore Jacob Smith said.
Smith recited a stanza from a Scottish play he heard on an ESPN
30 for 30 documentary: "'Fight on my men,' Sir Andrew said. 'For I am hurt, but not yet slain. Let me lay down and bleed a while, then I'll rise and fight again'."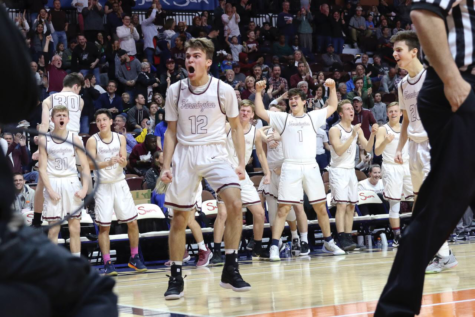 Farmington bled, but not for long. Smith hit a corner three-point shot on the team's first possession, igniting a 10-0 run in the first 59 seconds of the half to erase the deficit. From there, the Indians lockdowned their 1-3-1 defense and attacked with
balanced scoring.
"We came out playing in the second half like the team we've been all year, and it proved to be too much for them," Herr said.
As the clock winded down to under a minute left in the fourth quarter, smiles came across all the Farmington players and fans. Hugs were exchanged between each and every player, capped off with a court storming from the bench as the final buzzer sounded.
"No words can describe this. It was a storybook ending. Starting off my freshman year with a 5-15 record, I would've never thought I'd win a state title for basketball. We put Farmington back on the map. We made history," senior tri-captain Jake Dunst said.
The last to take in the rejoicing was head coach Duane Witter, known for his calm and collected demeanor across his 21 years of coaching at Farmington. It wasn't until the white sea of hundreds of student fans, better known as The Tribe, began chanting his name that he finally took part in the celebration, giving his seal of approval to the rowdy student section with his signature high five and a thumbs up.
Matthew Arena
"I have been blessed to coach and teach, and with my wife, raise a family in Farmington. I am genuinely happy for our school and our community. I love this team, and I am very proud to be their coach. The championship
was more than I ever dreamed it could be. I am indebted forever to the many, many people, my family, the administrators, the coaches, the former players, the parents, and this team, who have helped me get here," Witter said.
According to sophomore Bube Momah, the team is proud of what they have accomplished and is happy to see all the hard work pay off. Momah was named Player of the Week by the Hartford Courant after his championship game performance when he recorded 16 points, 17 rebounds, and four blocks.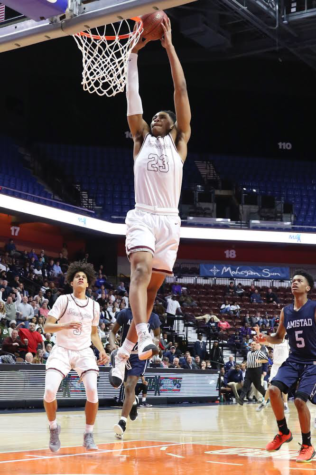 As the number three seed in the Division III tournament, Farmington progressed through the bracket to reach Mohegan, winning by over 20 points in each of their victories against Staples, Naugatuck, and Prince Tech. Prior to that, the Indians advanced to the semifinals of the Central Connecticut Conference (CCC) Tournament. They beat
Hall and New Britain before falling short to East Catholic, the eventual Division I state champions, 64-58 on February 29.
"The CCC is the best conference in the state of Connecticut. We played great competition night in and night out. We played close games, which helped prepare us for our run. More importantly though, we took some losses. When you take a loss, it's a learning experience. You learn a lot more from a loss than you do from a win: you get better, you pay attention, you get stronger," Witter said.
Heading into the season, a state championship was the main objective for the team. Having gradually improved their record over the last three years, 5-15 in 2016, 7-13 in 2017, and 11-11 in 2018, the team looked to capitalize this year with an experienced group of players across multiple classes.
"We worked hard from day one, even back in the summer. Everyone played their heart out to achieve this," senior tri-captain Makhi Hawkins said.
The title win and 23-4 record this season further strengthens the program, as the only other time Farmington appeared in a state championship game was in 1939. After an 80-year long wait, featuring several deep postseason runs, the Indians got back to the final and now have hardware to show for it.