Second semester offerings draw students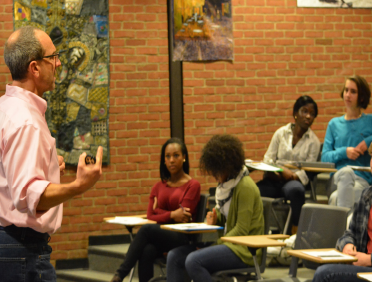 With second semester approaching, students are considering schedule changes and looking for new electives to fill their schedules. Currently, there are several second semester courses being offered for students.
Logic in Reasoning: Logic in Reasoning is a new course this year and is open to students in eleventh and twelfth grade. This course is a basic introduction to logic, which is the study of the principles for good reasoning. Logic clarifies thinking and helps students evaluate the reasoning behind claims people make.
This course is helpful to students to improve their understanding of arguments, inferences, and validity.
"I'm excited for Logic in Reasoning because it is unlike any math class I've ever taken before," senior Oliva Herz said.
Humanities: Humanities is another elective that is open to tenth, eleventh and twelfth graders. The course is taught by history teacher Jeremy Pilver and looks at the fundamental question of life and the human experience in the world.
From the beginning of the course, students will learn about the interactions between humans and the environment in hopes of finding what it means to be happy across cultures and throughout time.
The second part of the course will examine the relationship between art, architecture, belief systems and culture in the Western and Eastern civilizations. It is then the student's job to conduct independent research on their desired topic. This course emphasizes "experiential learning," which is providing students with hands-on opportunities, allowing them to apply their knowledge to the real world. The course incorporate field trips and a guest speaker in order to enhance the student's experience.
"The course provides a lot of freedom for students to pursue their own interests, without the same pressure in terms of content and grading in their core courses. It is a unique opportunity for 10 to 12 grade students to incorporate college-style learning into their high school experience," Pilver said.
There are other half year electives that have been successes throughout years.
"Some electives are much more popular than others, but this can vary semester to semester. Psychology is always a big one," counselor Rebecca Gorman said.
Psychology: Psychology is offered to eleventh and twelfth grade students and helps explain why people behave and think the way they do. The course overviews research methods, learning, memory, intelligence, emotions, sexuality, dreams, personality theory and psychological disorders.
"I thought taking that class would help me to better understand others and improve my people skills," senior Jason Smith said.
Exploring Active Play: Exploring Active Play is another half semester course ran by Health and Wellness Department Leader Edward Manfredi. This course is only offered to seniors and involves the act of moving the body with intrinsic motivation to engage in exploration along with interactions with others and the environment.
Students will get the opportunity to take part in both novel and traditional active play, which includes learning how to plan and lead activities. Some of these activities may include cooperative and competitive games, rope courses and adventure activities, adaptive play, snowshoeing and other outdoor activities.
"This is something different rather than your average gym class. If you enjoy different forms of play and interacting with the environment then this is the class for you," Manfredi said