Music students fly high to All Nationals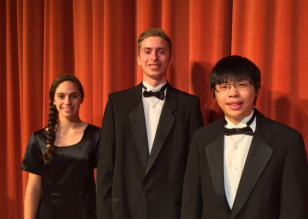 Music students seniors Navva Sedigh and Thomas Heath-Ringrose and sophomore Tristan Wong were selected to participate in the All National Honors Ensemble Choir conducted by world-renowned conductor Anton Armstrong.
It took place at The Gaylord Texan Resort and Conference Center in Grapevine, Texas on November 13. In order to be selected to participate, musicians must be accepted in Northern Regionals and All-States and then must send in a video audition at a chance of being selected.
All Farmington students selected for choir participated in the mixed choir: Sedigh as an alto, Heath-Ringrose as a bass and Wong as a tenor. The choir consisted of 672 high school students from 49 states and territories.
"Music is an elevated form of communication and all careers involve some form of communication. Elite musicians are expressive communicators of text, emotion, individual artistry. These skills are essential for success in the world today. Each of these students are exemplary communicators," Music Department Chair Leslie Imse said.
This four-day event included three days in rehearsal and one day for performances. The first three days included two rehearsals that lasted three to four hours and a 20 minute warm up.
Next, three song were picked to focus on out of a list that included: "Credo," "Listen to a Jubilant Song," "Flight Song," "Wie der Hirsch Schreit," "God of Life," "With What Shall I Come" and "Jabberwocky." Armstrong stopped as needed to work on specific sections of the song and choir according to Sedigh.
"Our conductor [Armstrong] was an extremely deep man and during quiet times or in between working, he would preach the importance of being together in a time of division. This emphasized the importance of music in today's society, as it is a group of people who are very different, but singing under one," Wong said.
The day also included having breakfast and a session regarding pursuing a music career or college, maintaining vocal health or an opportunity to view exhibit halls. It concluded with dinner and professional performances by the Local Wind Ensemble and the Vocal Majority.
"One of the coolest things I learned was that your heartbeat, almost immediately, syncs up with others when singing together in a group, which is really pure and beautiful to me," Wong said.
All Nationals impacted Sedigh's perspectives towards the power music has as a uniting force.
"It has impacted my life in that I now have a much wider perspective about how music can be a uniting force and that all of us there were from different backgrounds, states and had different beliefs, but we were all able to come together to give one incredible performance," Sedigh said.
Heath-Ringrose had a similar experience learning both life long skills and the significance of music.
"I learned not only skills such as collaboration, and leadership, but I also learned how I can impact others with music. I come away from this experience with new knowledge of how I can use music to better my life and the lives of those around me," Heath-Ringrose said.