How to write a strong college essay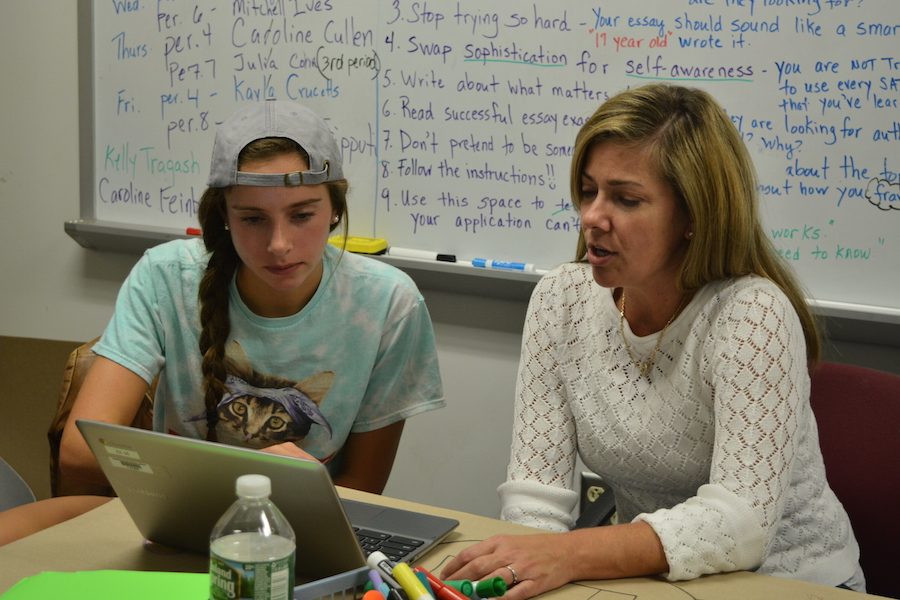 Kristy Pan, Editor-in-Chief
October 18, 2016
As deadlines are fast approaching, a lot of work is needed to complete college applications. One of the most significant parts of the application is the personal essay.
English teacher Virginia Gillis believes that students struggle because it's a different kind of writing than they are used to. Instead, students focus on finding their theme to use as a foundation for the piece. Without a theme, it is hard to write something that encompasses who the student is.
According to English teacher Melissa Lukanik, the best college essays are unexpected or unique, but more importantly, they are real, honest and genuine. Often times students attempt to write based on what they believe admissions officers want to read; however, that is not necessarily the best strategy.
"The biggest misconception is that their story has to be about some momentous, life-altering moment. This is absolutely not true. Some of the best essays I have read have been about small, unexpected moments such as searching for four-leaf clovers, for example. Students need to remember that the essay should really be about them," Lukanik said.
According to writing tutor Cindy Moeller, an essay that is just well-written is not enough to make it a good college essay.
"The essay must be a snapshot of the applicant much like an extremely pared-down memoir. The essay must tell your story, and this is where some of the difficulty in writing the college essay lies; most people find it difficult and even uncomfortable to talk about themselves," Moeller said.
The goal of the college essay is to convey a message beyond what transcripts, test scores and resumes convey. According to school counselor Rebecca Gorman, the essay should reflect personality, character and who the student is on a more personal level.
Once students get past the writing process, the editing and reflecting processes are also essential to a good college essay.
"I think just write it. You have the idea, you have the theme, you have the vehicle, just write the story and then go back. Don't worry about word count, don't worry about being perfect, don't worry about each little word choice, it's just paralyzing. Write the story and then go back and think about structure and think of those elements of storytelling," Gillis said.
Seniors should also take advantage of all the resources the school offers.
"[I recommend] that students have a few other people read their essay. Their English teacher, a counselor [and] a best friend. Ask each person to read with a different lens and do not let other people re-write paragraphs or even sentences for you. It can stop sounding like you pretty quickly and admissions reps are pretty savvy at recognizing when an essay has had too many hands on it," Gorman said.
Senior Danielle Gan is applying Early Action to North Carolina State University and began her essay writing process early because of her November 1 deadline.
"My process of working through my essay was really going through different drafts. I worked with other students and teachers that helped me decide what my topic for my essay was and then worked with my teachers to finalize my essay," Gan said.