USA takes home gold as it defeats Canada in the World Junior Hockey Championship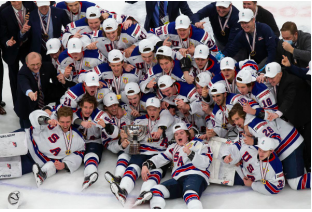 For the fourth time in five games between the two nations, the United States defeated Canada to secure the gold medal in the 2021 International Ice Hockey Federation World Juniors Championship by a score of 2-0. This win marked the USA's fourth gold medal since 2010, defeating Canada in three of those four Championships. No other team has won more gold medals in that span, as Canada and Finland have only secured three since 2014.
In this year's World Juniors, 10 teams participated and were split up into two groups, group A and group B. Going into the tournament Canada was a strong favorite as they are every year. As the nation develops some of the most talented hockey players in the world. However, during the round- robin in the beginning of the tournament Canada lost star player Kirby Dach to a wrist injury, sidelining him for the rest of the tournament.
The loss of Dach was a challenge, but the Canadians had a strong team regardless and could play without him. That was proven by a perfect round-robin and a pair of shutouts heading into the championship, but they were in for a rough ride against their rivals from the south. USA struggled on their side of the bracket as they only came up top by one point leading them to play Slovakia in the first round. After their win they started coming together as a team and picked up huge momentum as they defeated Finland by a score of 4-3 to send them to the Championship game.
Avon Old Farms alumnus Spencer Knight put on a show throughout the tournament pitching three shutouts while recording a dazzling .939 save percentage and 1.63 goals against average(GAA) through seven appearances. As evidenced by his dominant play both at Boston College and the World Juniors, the 2019 No. 13 overall pick by the Panthers has an incredibly bright future ahead of him, clearly shown during the 2-0 shutout against Canada. Knight wasn't the only leader on the ice during the tournament. World Junior Hockey MVP Trevor Zegras proved his leadership and went out and collected 18 points in seven games, falling one point short of tying the single-tournament record that was recorded in 1991.
"Trevor showed up against every team we played… He was so committed off the puck and that helped our team. Seeing that helped them," head coach Nate Leaman said.
Earlier in the tournament, Leaman said that he was especially impressed with how Zegras was just as effective and dangerous at the end of a shift as he was at the beginning. When your best players are providing that kind of effort, it trickles down. There wasn't a single game where Zegras wasn't a threat. With Zegras's point productivity and Knight's impeccable goalkeeping, they proved people wrong leading to an upset over Canada.
From looking shaky at the start to bringing home their fourth gold medal since 2010, players from the US look to continue playing hard and provide leadership to the rest of their team in hopes of winning number five in 2021.