College sports make a return across the state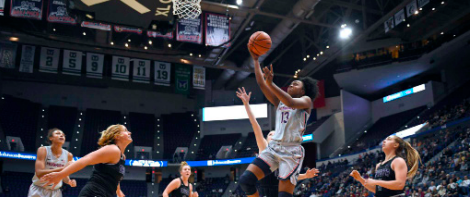 COVID-19 has been an obstacle in college sports seasons, and teams are finding new ways to adjust to these conditions. With the virus going around, teams have been forced to postpone games and suspend their seasons. It has been far from a normal season, but most teams are still able to play.
On December 5, 2020 the UConn Huskies Men's Basketball team was forced to suspend all team activities due to a member of the program testing positive for COVID. Thanks to contact tracing, they were able to get back to the court pretty quickly, but that hasn't been the only challenge they've had to go through. They have seen eight games postponed, due to a COVID case within either of the programs. Most notably their game with the third ranked team in the nation, Villanova, has been postponed to a later, unannounced date. Despite these struggles, the Huskies are having their best season in years and are currently 7-2, while being ranked twenty-third in the nation.
UConn Women's Basketball has also had to go through obstacles in their season, as they have also had to pause their season due to COVID-19, and have had several games postponed or canceled. Most importantly their highly anticipated game against Baylor was canceled. Longtime Uconn Coach, Geno Auriemma says the majority of his players want the season to continue, along with Geno himself.
"Almost nobody gets infected by playing basketball. I think the number of people that contract COVID-19 by playing against somebody, it's been almost zero," Coach Auriemma said.
Currently the Huskies women are 14- 1, and are ranked 3rd in the nation. Yale University's winter sports season was cancelled back in November, after an announcement from the Ivy Leagues council of presidents.
Yale athletes, along with all other Ivy league schools, have been affected the most by COVID-19, as their fall season was also canceled, and there are still questions being raised about the spring season. This is very disappointing for all of the athletes and coaches to hear, but didn't seem unexpected, according to Yale Men's Basketball Coach James Jones.
"I thought as this went along it was gonna be tough to have it. I went from 100 percent it's not gonna happen, to only about 90 percent it's not happening," Jones said.
As far as the spring season goes for Ivy League sports, they have been postponed until at least the end of February.
The Quinnipiac Men's Hockey team was forced to postpone their home opener, along with two other games being canceled. The team has been cruising along since then, and currently are 10-4-1, while being ranked 10th in the nation. The Men's basketball team at Quinnipiac has been faced with struggles, as they already have had to suspend the season twice, due to COVID cases within the program. After about a month away from the court, the team came back in January, and have had few issues since. The boys are currently 3-5 on the season.
The University of Hartford Men's basketball have had very few issues. On January 21 the boys saw their series against the University of Vermont get postponed due to a positive case within the opposing team. Before that, they were having a steady season and currently are 9-6, and sit fifth in the America East Conference.
The women at Hartford have seen a few games postponed, but have had no suspensions in their season. Their match-up between New Hampshire back in the end of December was postponed, along with their series against the University of Vermont on January 23 and 24. Besides these postponements, the girls have had a steady season, and are currently 3-7 on the season.
Despite COVID-19, all of the suspensions of seasons, and postponements of games, most teams have still gotten a solid amount of games in. This season has brought many new challenges to teams that have not been seen in previous seasons, but they are finding ways to adjust to these challenges. Teams want to be able to complete the season, and are willing to do whatever they need to do in order for that to happen.