Unpredictable 2020 college football season leaves Alabama on top again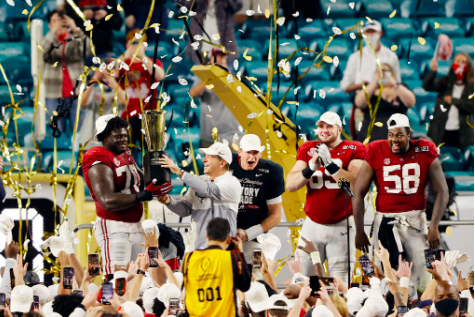 On January 11, the Alabama Crimson Tide bested the undermatched Ohio State Buckeyes to win the 2021 College Football Playoff National Championship.
The win pushed Alabama to a record of 13-0 on the season and gave Crimson Tide head coach Nick Saban his seventh National title, winning six with Bama.
Even in the midst of a pandemic, Alabama was able to sweep through their regular season finishing 10- 0. They would then go on to beat Florida to capture the programs 28th SEC conference championship.
The Tide would then go on to be selected to their sixth College Football Playoff, facing off against Notre Dame in the National Semifinals. Alabama would make quick work of the Fighting Irish entering halftime with a 21-7 lead. In the late third quarter, Heisman winner Devonta Smith would haul in his third touchdown of the game making it 28-7. This would relatively seal the game and would punch their ticket to Miami for the National Championship.
Ohio State on the other hand, had a few more hiccups along their path to Miami. The Buckeyes didn't play their first game until October 24, 2020 as a result of Big Ten virus restrictions. Additionally, they would have three games canceled due to contact tracing. Despite all this, the Buckeyes would finish 6-0 defeating Northwestern 22-10 to win the Big Ten Championship. Ohio State would be selected to their fourth College Football Playoff, facing off against powerhouse Clemson in the National Semifinals. Entering the game as seven point underdogs, Ohio State would shock the country piling up 35 points by halftime. The game was never remotely close following Clemson's opening touchdown in the first quarter. Ending 49-28 the Buckeyes would once again compete for a national title.
The stage was set for a match-up between two of college football's premier programs. However, the competitive aspect of the game was ended by halftime. After a tightly contested first quarter, the Crimson Tide came out firing, racking up four touchdowns in the second quarter alone.
Entering halftime with a 35-17 lead bearing an epic collapse the Championship was all but over. The game would end 52-24, behind a series of dominant performances. Receiver Devonta Smith caught 12 passes for 215 yards and three touchdowns.
Quarterback Mac Jones threw for five touchdown passes and over 400 yards also. These performances would prove vital in helping Bama lift their 18th National title. With a season of so much change and uncertainty, the end result remained the same Alabama are once again the reigning National Champions of College Football.