Roll out of COVID-19 vaccines begin nationally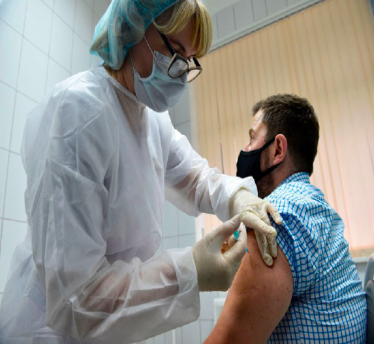 On December 11, 2020, the vaccine for COVID-19 was announced by the Food and Drug Association (FDA). Since then, vaccinations in the United States (U.S.) started on December 14, 2020, and over 15.6 million doses have been administered and with the number only increasing.
To make sure the vaccine is in full effect it requires two doses over three to five weeks, so even after getting the first dose there's still a risk of being infected with the virus up to a month after.
To test the effectiveness of the vaccine, the FDA conducted many clinical trials to determine how well it works. After the FDA approved the vaccine for emergency use, it continues to be studied to determine its effectiveness in real-world conditions. The Center for Disease Control and Prevention (CDC) will continue to be testing the vaccine under real-world conditions.
The COVID-19 vaccine distribution is dependent by state. Currently, Connecticut is in Phase 1a of the vaccination process, which means only certain residents and industries are eligible to receive the vaccine.
Connecticut's goal is to have the vaccine available for all residents by late Spring or early Summer. Connecticut's distribution plan for the vaccine starts with individuals 75 years of age or older and front line essential workers.
The next group of individuals who will be offered the vaccine are front line essential workers such as firefighters, police officers, corrections officers, food and agricultural workers, United States Postal Service workers, manufacturing workers, grocery store workers, public transit workers, and those who work in the educational sector (teachers, support staff, and daycare workers.) This will be considered Phase 1b.
Phase 1c of the vaccination plan will consist of individuals 65-74 years of age, followed by individuals aged from 16-64 years with underlying medical conditions or other serious illnesses that could increase risk from COVID-19.
Before getting the vaccine, the same standards apply including wearing a mask and staying six feet away from others while receiving the injection. Once vaccinated, there is a vaccine card that the healthcare worker provides which includes information on where you got vaccinated, what day, and which vaccine you received. With the COVID vaccine, it requires two shots in order for it to be effective and can take up to one to two weeks after the first shot for the body to build immunity.
Currently, the FDA has cleared two different COVID-19 vaccines. The Pfizer-BioNTech vaccine, and the Moderna vaccine. Both require two shots in the upper arm about one month apart from each other and are most effective after the two doses.
Both vaccines are very similar but there are some key differences, unlike the Pfizer vaccine, the Moderna vaccine does not need to be kept at cold temperatures and is administered as two doses given 28 days apart and can be kept refrigerated up to 30 days before it expires.
The Pfizer vaccine is administered as two doses given 21 days apart. These key differences suggest that the Moderna vaccine may be more useful to smaller facilities like pharmacies, while the Pfizer vaccine would be more useful for larger facilities like hospitals since there is a shorter amount of time for individuals to get the second dosage.
Around 806,716 vaccines are administered a day with at least 1.96 million people and counting who have completed the vaccination. In Connecticut, 6.19 doses have been given per 100 people, 221,000 total doses have been administered, and 24,000 people have received the second dose.
Vaccines will continue to be routinely administered in Connecticut. Currently in phase 1b of vaccination, the state looks to continue to make progress towards vaccine availability for all.