'Project WE BELIEVE' pays tribute to basketball coach Duane Witter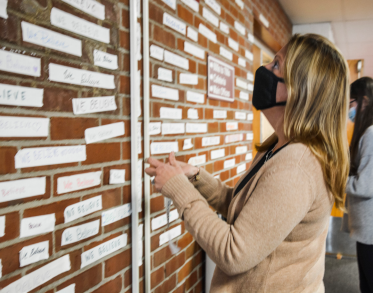 Over the summer, the community learned that longtime Farmington Basketball coach Duane Witter was diagnosed with Leukemia after previously battling and beating the disease in 2019.
After beating Leukemia, Witter still coached the boys basketball team the same year. Leading them to another winning season with a 16-7 record and another shot at the State Championship. Their chance never came as COVID-19 struck and ended the season.
Witter will take this year off to focus on his health. During the 2018-19 "run to the sun," Witter's motto of the season was "Believe". This stuck with players, coaches, students, and teachers as Witter wanted the community to "believe" in the players as they made their run to a historic season.
As the Farmington community proved they could believe in Witter's message and the team, one senior felt it was time to believe in Witter and his battle with cancer. Senior and four-year basketball player Ricky Podgorski made the decision to create a project called "Project WE BELIEVE." Faculty and students from all grades were asked to submit a video message for Witter saying "We believe" while holding up Witter's signature six fingers.
"Coach Witter showed me and my teammates back in 2019 how to believe. He taught the whole Farmington community how to believe, and it paid off with the first ever boys basketball state championship in school history. I want to show Coach that everyone believes in him during this difficult time. Belief is strong, and I'm hoping Project WE BELIEVE will have a strong impact on Coach," Podgorski said.
Alongside the submissions of the videos, from the week of November 30 to December 7, Cohort A and B students from all grades were able to place a piece of tape saying, "WE BELIEVE" on walls around the school, something Witter did around the school during the boys' championship season.
Keeping the social distance protocol, everyone was placed in different sections around the school by grade. These areas are some of the main locations Witter placed his believe tape to raise awareness around the power of having belief and hope. Until Coach fully recovers to see the floor once again, "Believe" will become a permanent concept within the high school and larger community.
"I know that the message will be one of 'hope.' Project WE BELIEVE is about looking for things that bring us hope. Coach Witter fighting this disease with dignity and grace brings us 'Hope.' Even in the worst of time, we are reminded that the human spirit is absolutely amazing," Information Literacy and Learning Technology Department Chair Kelly Stokoe said