Andrew Van De Mark prepares for the upcoming indoor track and field season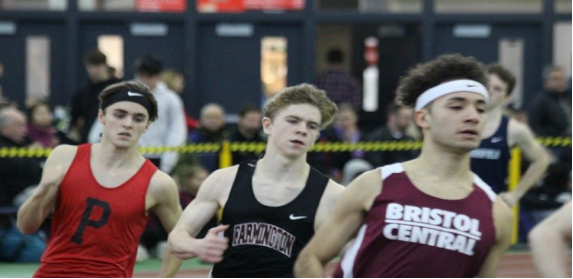 Indoor track and field is often overshadowed by cross country and outdoor track and field. The sport is an underrated part of competitive running and winter sports. The Farmington team has represented the school in meets throughout the years, and has seen many successful runners, including senior Andrew Van De Mark.
Coming off of his rookie season holding the school record for the 600 meter (m) race, Van De Mark is heading into the 2020 – 2021 season ranked fourth out of all Connecticut athletes in the event.
Van De Mark did not join the indoor track and field team until the 2019 – 2020 season. With a history as an athlete and a background in soccer, Van De Mark began running competitively his junior year, and will continue to run as a senior. He also plans to join outdoor track and field in the spring, and has a chance to break the outdoor track record for the 400 m event.
Van De Mark's main event is the 600 m race. At the Yale invitational meet in January 2020, he broke the high school's 600 m record of 1:26.1, now holding the record with a time of 1:24.47. Later in the season, he placed second at the Central Connecticut Conference (CCC) meet with a 600 m with a time of 1:24.96, being named an All-CCC athlete.
"Andrew earned the title of All-CCC athlete because he is an extremely hardworking, dedicated, and talented athlete. He always puts in 110% whether he is at practice or at a track meet. I hope that Andrew can continue to improve and maybe even beat his own school record again," coach Kalyn Johnson said.
Following a successful time at the Connecticut state meet, he qualified to attend the Connecticut state open meet where he once again had a competitive performance. In February, he competed in the New England Championship in Boston, Massachusetts, running against top athletes in the New England region. Van De Mark placed 10th in the 600 m with a time of 1:24.07, beating the school record set by himself earlier in the season.
Aside from his dedication to the 600 m event, Van De Mark was a member of a relay team that competed in the 4 x 800 m race. Along with Van De Mark, last year's competing team was represented by current junior Brendan Kelly, current senior Charlie Driscoll, and Class of 2020 alumn Kyle Wogelius. Last year, the team placed sixth at the Class L state open meet, another accomplishment that Van De Mark is proud of.
Van De Mark quickly became friendly with his teammates and coaches, forming bonds and making memories during practices and meets. He immediately noticed the attitudes and work ethics of the people around him, something he appreciates as he trains and competes.
"Even though this sport is new to me, I'm really proud to be a part of such a great team. Both Coach Skerker and Coach Johnson are really invested in every individual in the program and I think that's why our running teams have seen so much growth in just the past two years. They both are amazing coaches who don't get enough credit for the time and effort they put into building the program. Also, having a team full of great teammates and people makes running so much more fun. The team is constantly growing and it's a great place to be," Van De Mark said.
With a background in athletics, Van De Mark approached the new sport with an open mind, ready to do his part to be a good member of the team. He quickly found his place among the dedicated runners, and formed relationships while breaking records. Although the captains have yet to be announced, as a senior he will play a part in leading the team, along with the nine other returning seniors.
"Andrew gives his all in every practice and race, and his efforts never fail to inspire everyone around him," senior Shaila Patel said.
Besides hoping to break his own record once again and to return to the New England Championships for a second time, Van De Mark has many goals for himself and the team. One of his driving goals for the season is that the 4 x 800 m relay team that he participates in, qualifies for the state open meet. Overall, he hopes that the team continues to grow and that the winning culture continues.
"Beyond the obvious record-breaking times, which does definitely help set the tone competitively for the team, and motivate his teammates to push themselves further, Andrew has played a crucial role in building our team's culture. My hopes for Andrew, and the team as a whole, competitively are simple: keep getting faster, throwing farther and jumping higher," coach Patrick Skerker said.
With all Connecticut sports events being postponed until January 19, the team must wait until they can start training for a successful season