New resource officer ensures school safety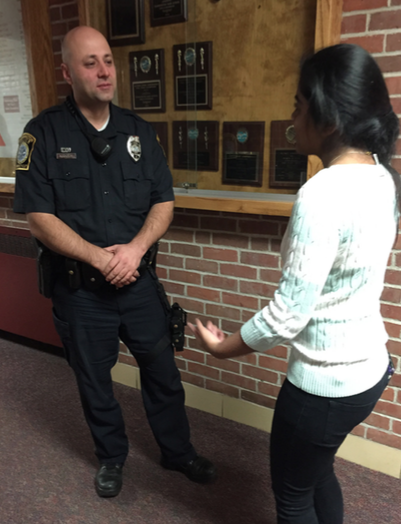 Since Officer Joanna Blumetti has gone back to the patrol division after her term as a School Resource Officer (SRO), Officer Ferik Mustafai has taken over her role at the high school.
  Prior to being assigned as a SRO, Mustafai was in the patrol division for over nine years. While on patrol, police officers need to deal with a variety of different issues and after some time, Mustafai felt that a change in pace was welcome and decided to apply to become the SRO.
  "They usually rotate the [SRO] through after about four or five years. I was looking to get a little more experience working with different clientele," he said.
  Mustafai has taught classes on search and seizure in the past and looks forward to interacting with more students through other classes he will be teaching.
  "I enjoy interacting with the students so I am looking forward to doing a lot of the academic portion of the job as well as maintaining the security of the building and making sure that everyone feels safe and the school provides a safe environment for everybody to excel," Mustafai said.
  According to health teacher Courtney Landheer, Mustafai will present during the Healthy Relationships and Age of Consent Laws units for Wellness 10.
  "Having the SRO come into classes is extremely important. One, building community relations between law enforcement and youth is important to a community. A mutual respect is formed when this happens. Second, hearing the laws from the mouth of an officer helps students to understand the laws and that there are consequences for breaking them," she said.
  Along with teaching classes and working with students in the classroom, students also have the opportunity to continue to work with the SRO.
  Senior Dan Douglas worked with Blumetti before she went back to the patrol division, and he continues to work with the SRO by collaborating with Mustafai.
  Douglas said, "I think [Officer] Mustafai was a great choice in replacing Officer Blumetti because he is very personable, very friendly and you could easily go up to him and talk to him about everything. His professionalism is admirable."