Tampa Bay Lightning victorious over Dallas Stars in the 2020 Stanley Cup championship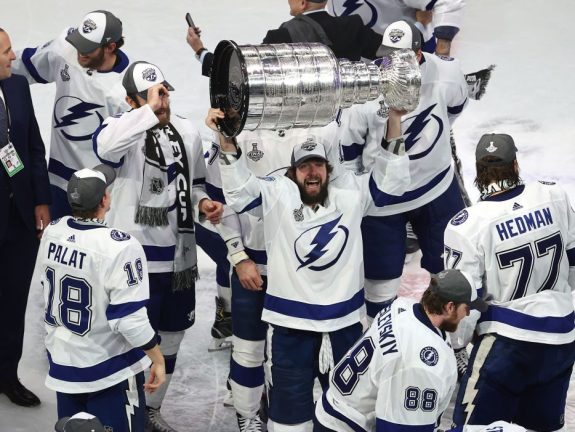 After being abruptly canceled due to the COVID-19 pandemic, the National Hockey League (NHL) playoffs kicked off for a second time on August 1. For months, the 24 competing teams played in four rounds, with the best of seven moving on, and on September 28 the Tampa Bay Lightning beat the Dallas Stars, winning the 2020 Stanley Cup.
The Dallas Stars of Dallas, Texas, ended the 2019-2020 NHL season standing at 37 wins, 24 losses, and 8 ties. The Stars won the Western Conference semifinals in a very close series, beating the Colorado Avalanche in the seventh game in a 5-4 overtime win.  The team then played the Las Vegas Golden Knights in the conference finals, winning the series in five games, moving on to the 2020 Stanley cup championship where they faced the Tampa Bay Lightning. 
The Tampa Bay Lightning of Tampa Bay, Florida, also ended the 2019 – 2020 NHL season with a solid record, standing at 43 wins, 21 losses, and 6 ties. In the Eastern Conference semifinals, the Lightning won four games and lost 1 game to the Boston Bruins, moving on to face the New York Islanders in the conference finals. They won against the Islanders after 6 games, the Lightning winning four and the Islanders winning two. The Lightning then met the Dallas Stars for the 2020 Stanley cup championship.
Hitting the ice on September 19, the Stars made a strong first impression against the Lightning, winning 4-1. The Lightning then tied up the series with a 3-2 win in game two, and gained their first lead of the series winning game three 5-2. Leading the series 3-1, the Lightning beat the Stars in a close game, ending game four 5-4. 
The Stars made an attempt to come from behind and won game five 3-2, but the Lightning came right back in game six with 2-0 shutout, winning the 2020 Stanley Cup on September 28. The 2020 victory was the second time the Lightning had won the Stanley Cup, the first time being in 2004 winning against the Calgary Flames.