Ratched, a must watch compelling drama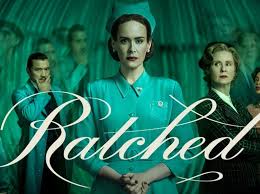 Seven-time Emmy nominee and Golden Globe award winner Sarah Paulson has done it again, but this time in the new eight-episode Netflix thriller Ratched.
Paulson plays the character Nurse Ratched, a manipulative, evil nurse who will not allow anyone to stand in her way. The setting takes place at Lucia State hospital, a facility in California where there lies many secrets and countless murders. Ratched was voted a score of 61 percent so far on the average tomato-meter, which is a little low considering Sarah Paulson's successful roles in the popular series American Horror story, which comes from the same creator Ryan Murphy.
"Ratched is an intoxicating psychological thriller with luxurious sets, beautiful costumes, reams of plot and quite a few moments of vicious gore — imagine a telenovela directed by Alfred Hitchcock… Paulson, an actress who achieves her effects with fine, precise detail, somehow manages to acknowledge the camp value of all of this without playing into it," said People Magazine.
Although People Magazine speaks very highly of the show, others may consider the plot line of the series to be a little slow going. Paulson continues to live up to her expectations with any role she is given, but the plot line begins to feel disturbing making that somewhat exclusive to certain audiences that may not be able to handle it.
In addition to the plot line of the show, Filipino-American actor and singer Brionnes plays the character of Dr. Hanover, the head of Lucia state hospital. Dr. Hanover is a very gullible character in which he allows himself to be manipulated by both Nurse Ratched and a few other members of the staff at the facility, where he finds himself in deep trouble. Hanover appears to have this development during the show that is a little worrying to other characters but allows him to feel in charge of his own mind and facility again.
Ratched contains murders, drugs, explicit scenes, and touches on different mental disorders that can sometimes be too heavy for others to find interesting. Personally, I am a part of an audience that is interested in murders and a few of those topics which is why Ratched was such an intriguing show that kept me glued to the screen; allowing me to finish in just three days. To avoid any other spoilers, I definitely recommend anyone who is interested in the aspects of the show to watch Ratched on Netflix and view the compelling drama for yourself.