Playa Bowls offers eco-friendly, healthy eating experience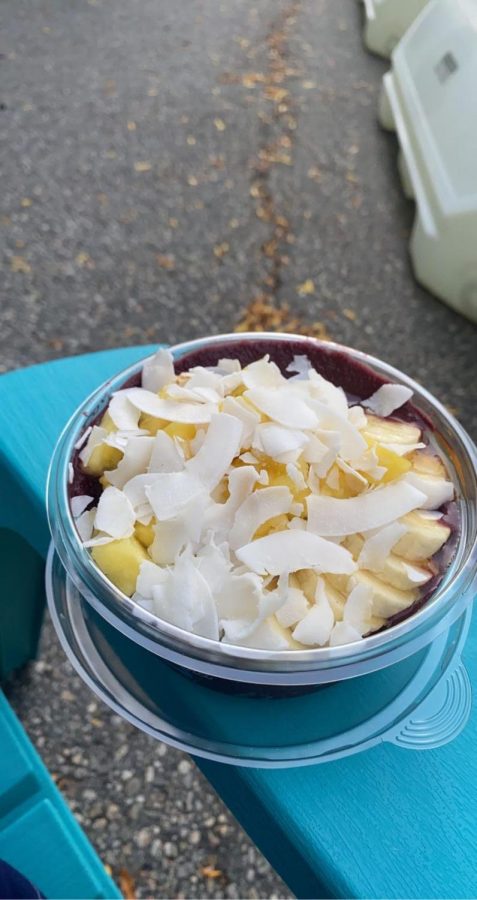 If you're looking for a healthier alternative to help satisfy your sweet tooth, Playa Bowls, located in Blueback Square in West Hartford is completely worth a try. In the last few months, I've seen many posts raving about Playa Bowls and the delicious, yet aesthetically pleasing menu items offered here; I decided to finally see what all the buzz is about.
Playa Bowls is a superfruit cafe with one of their most popular menu items being their acai bowls. The menu also includes a variety of different juices, smoothies, as well as poke bowls. I was slightly overwhelmed by the options when I had first entered but I decided to try the Tropical Acai Bowl, which has an acai base topped with granola, banana, pineapple, coconut flakes, and honey. The bowls range between 10 to 12 dollars which seems a little pricey at first, but considering the size of them and how filling they actually are, it's worth giving it a try at least once.
Playa Bowls not only has a wide range of menu items and can cater to almost anyone, but they are also an environmentally friendly business, which I wholeheartedly support. They used plant-based eco-friendly bowls, spoons, lids, and straws, and also used refurbished and reclaimed materials to build the actual shops themselves. 
Playa Bowls is definitely somewhere that I'll be returning to, and I am eager to try what else the menu has to offer. I really recommend giving this place a try, as no matter who you are or what kind of taste or dietary restrictions you may have, they will have something that caters to everyone.