Fashion class gives back with face masks
The high school's fashion class has recently been sewing together face masks as part of their at-home Connected Learning experience. Art teacher Katirina McKinney assigned the project to her fashion students as it fit in with their curriculum and was an opportunity to give back to the community.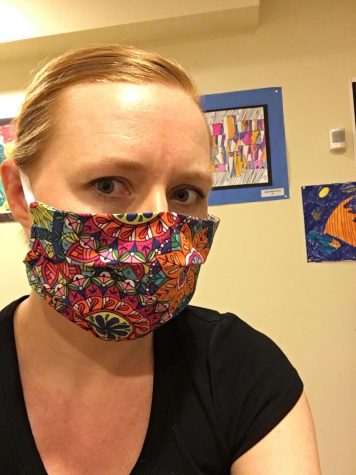 After hearing about the School of Fashion Design in Boston Massachusetts making face masks, McKinney thought that it would be an excellent project for her Fashion Classes. The class was just about to start their sewing unit, and these simple sewing tasks would easily build their skills as they work to create wearable garments. 
Many of the students have been using woven cotton fabric that they found at their houses. For students who are in need of fabric for class assignments, there is donated fabric at school which is available. The sets of masks have been used for students' families; however, they are now making more masks to donate. Sewing Facemask Farmington Valley has been accepting donations of face masks as well as other sewable medical supplies.
"My twelve-year-old daughter has been helping me. I will be donating them through a group called Sewing Facemasks Farmington Valley, [Connecticut]," McKinney said. 
Other students have taken the project for more personal uses with many family members who are essential health care workers. 
"My aunt works as a nurse anesthetist at Holston Medical Group in Tennessee, and her hospital was giving out medical grade material to be used to make into masks. She sent over the materials for the masks and I finished sewing them for my family and some of my extended family. The material was tightly woven so it was hard to pin into place but sewing them took little time," senior Sarah Scanlon said.  
In regards to having a Fashion Class at home, along with many other Art classes, McKinney has been persistent in keeping her students on task. McKinney's fashion class has been sticking with typical in-class routines to keep the class similar to it in school.
"We always try to promote self-direction and resourcefulness in all of our art and design classes and having students being used to this way of learning definitely helped in the transition to Connected Learning," McKinney said.