Gregory, Conrad awarded football scholar-athlete award, reflect on football experience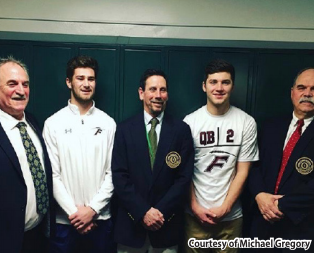 Two high school students recently received a prestigious award from the National Football Foundation and the Connecticut Football Hall of Fame. Seniors Michael Gregory and Jake Conrad were recently named scholar-athletes, and although the banquet at which they would receive their awards was canceled due to COVID-19, there will still be a virtual award ceremony in May.
The pair are the first students in high school history to ever win the award in the same year and are the first winners since 2016.
"I was very excited and surprised [to hear about the award]. I had sent in the application for the award several months prior, and it was nice to finally find out," Gregory said.
Gregory and Conrad were both captains of the football team this past fall and have been part of the varsity football team since sophomore year. Conrad says that football has had a big impact on his life and who he is as a person.
"Coming into the program I had to learn to pay attention to the older guys and work my way up. My coaches and teammates started to gain trust in me and I was able to take on the most stressful job on a varsity field for two years. Football taught me respect, leadership, and hard work. These were all important to team culture, and it has helped me grow as a person," Conrad said.
Both boys have worked closely with head varsity football coach Chris Machol over their years in the high school's football program, and he has had a front seat to their growth as players, scholars, and people.
"This was a fantastic class of young men and Mike and Jake managed to balance being high-level performers on the team and in the classroom. It is not always easy to balance personal responsibilities, academics, and athletics especially in a sport as demanding of your time as football, but these two young men managed to do just that. They began their freshman years committed to the program and themselves, and they finished that way four years later which is a testament to their character," Machol said.
Neither of the boys will be pursuing athletics at college next year; however, they have both noted that football has given them life lessons that they can easily apply to school and to their lives. "Football has helped me develop the mentality that everything has to be done on time and to your best ability. In the classroom, I think this will help me when I get tempted to slack off here and there," Conrad said.
Gregory will attend the University of Pittsburgh, majoring in business while Conrad will be majoring in computer science at Quinnipiac University.