CrunchCup changes the way you eat breakfast forever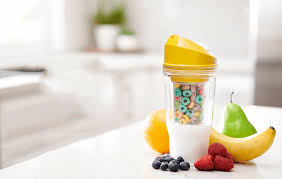 Ricky Podgorski, Matthew Arena, Hollis Tharpe
April 25, 2020
For millions of people across the world, cereal is the go-to meal for breakfast. However, not everyone wants to wake up 15 minutes earlier to sit down and have a good bowl of cereal. Recently, a company took the challenge to create an on-the-go cereal cup. An absolute dream for many, the cup fits the exact mold for a nice portable meal or snack whether someone is in school, work, or anywhere else they may be. This new invention is known as The CrunchCup.
The CrunchCup features an interesting design, ensuring an on-the-go meal, as well as never soggy cereal. The cup has two separate chambers, one for cereal and one for milk. Each chamber has its own separate hole in the lid of the cup where the contents are then easily dispensed into your mouth in one swift swig. The cereal and milk don't touch until they are in your mouth, resulting in an astonishing experience for your tastebuds. Additionally, the cup balances a perfect ratio of milk to cereal per each sip.
The CrunchCup is incredibly useful for those who have early commitments, or are generally short on time. As opposed to sitting down and trying to eat your cereal before it gets soggy, with the CrunchCup, you only need a few minutes to prepare a full meal that you can take on the go.
The CrunchCup is not only limited to mornings; you could use it at any time during the day if you're trying to grab a quick, delicious snack. Now, cereal is a feasible option for any meal due to the portability of the CrunchCup.
The CrunchCup also minimizes the wasting of milk because now you finish your milk and cereal at the same time, so consumers who don't enjoy milk on its own won't have to worry about having an entire bowl of milk to deal with once they are done with their cereal.
Customer service at CrunchCup is nothing short of amazing as well. We reached out to the people over at CrunchCup, and they were able to send out three cups for us to giveaway to a few students at the high school.
We each had the opportunity to use our very own CrunchCups and had nothing but positive feedback, and thoroughly enjoyed our experience. This invention is truly exceptional, and will likely revolutionize breakfast for years to come.