The coffee debate: Dunkin or Starbucks?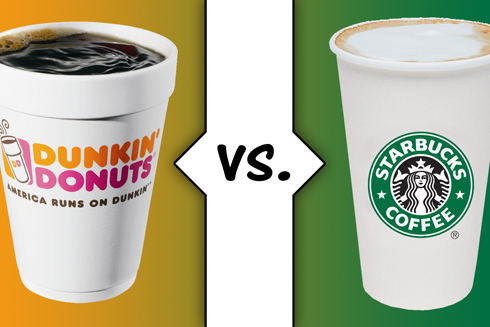 The issue over which coffee chain is better has caused long-lasting debates with coffee lovers throughout New England. Starbucks or Dunkin Donuts? The two chains have risen dramatically in popularity through the past decades, with changing menus, and new exotic drinks. But when it comes down to coffee which one is better? 
For me, iced coffee is the way to go no matter the temperature outside. My go-to is typically a vanilla iced coffee or an iced vanilla latte. To try and settle this debate I decided to try both from Dunkin and Starbucks. 
Starting at Dunkin first, I ordered a small iced coffee with french vanilla, and cream, and a small iced vanilla latte. After waiting for about three minutes the drinks were ready. Waiting in Dunkin I noticed very few people sitting down. Most visitors came in, ordered their drink and then left promptly after receiving it. Although they had a wide variety of places to sit, there weren't many people staying in to drink their coffee. 
Starting with the iced coffee, the artificial vanilla flavor that they used did not taste very much like vanilla and was way too sweet. The sweetness from the syrup overpowered the coffee taste, making me almost forget I was drinking an iced coffee. Next up, I tasted the iced latte. The same vanilla taste was in the latte but not as sweet as the iced coffee. However, the espresso used in the latte almost tasted burnt and was not pleasant at all. It had an overly bitter taste to it, and I was not pleased.
Overall, I was disappointed with Dunkin's coffee. Although it was a cheaper price, I felt that the quality was not as high, but Dunkin is always reliable for fast and affordable coffee. 
Next, I traveled down the road to go to Starbucks. From Starbucks, I got a tall iced coffee with vanilla and a tall iced vanilla latte. The drinks definitely took longer to make, but after waiting for about five minutes they were ready.
After looking around in Starbucks, most of the seats were taken, Starbucks not only offers a place to get coffee to go, but is also a place where people tend to meet friends, get some work done, or even have meetings.   
I started again with iced coffee. Starbucks coffee definitely had a more coffee-like taste, the vanilla was not too overpowering; however, I would have preferred it a little bit sweeter. The coffee taste was not too bitter which I enjoyed. The latte was very creamy and perfectly sweet. The espresso was not overly powerful and in no way bitter. 
Overall, I enjoyed my experience at Starbucks much more than my experience at Dunkin Donuts. Starbucks is for sure on the pricier side; however, you're paying for a higher quality blend of coffee.
Starbucks also offers more of an inviting atmosphere, with many people sitting, enjoying their drink, and socializing.