Students activities fair kicks off the club season
The Student Activities Fair took place on Thursday, September 12, marking the beginning of the annual afterschool club season. Returning clubs were set up in the cafeteria hallway during all lunch waves, where members answered questions brought on by potential recruits.
Joining an after school club can be a beneficial way to become more involved in the school community, as well as exploring personal interests that one may not get a chance to explore otherwise.
"You get to know new people, become aware of new and important issues, and learn about your community as well as outside of your community," senior member of the Gender Sexuality Alliance (GSA) Savannah Rapp said.
While no new clubs have been officially approved this year, the fair hosted more than 40 different clubs, ranging from book to volunteer-oriented clubs.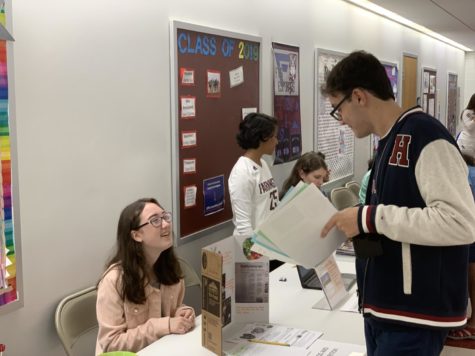 "Our students and teachers are invested beyond the classroom to make FHS an amazing place to be and they both care about impacting the Farmington community," Student Activities Director Chris Loomis said.
Club members and advisors are taking this new year to expand on the content of their activities by utilizing different forms of media like Instagram, the 9:05 News, and Google Classroom. This, in turn, allows them to brainstorm new ways to make the activities more appealing.
"In years past, the club was more laid back. So this year we're hoping to have more interaction with the school by possibly hanging some garments on display around the school, and other things to connect the school to the fashion community," senior and president of the Fashion Club senior Sofia Podgorski said.
For new students or those who have never partaken in the fair before, it may seem overwhelming, but it also provided opportunities to meet new students, learn about new communities, and find new interests.
"The wide variety of clubs and activities at the fair were really interesting. All of the students at the booths were informative and friendly," freshman Eloise Fairbrother said.
Anyone interested in learning about new clubs can contact Loomis.