Capstone student explores healthcare, furthers passion for nursing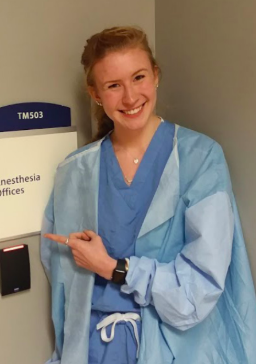 Senior Olivia Burt has utilized the Healthcare 21 capstone course to pursue her passion for medicine. She completed 15 hours of job shadowing at the University of Connecticut (UConn) Health Center as well as completed the Medical Terminology course through Tunxis.
Through the program, she received her Cardiopulmonary Resuscitation (CPR), First Aid, and Automated External Defibrillator (AED) certifications. She used these experiences to write a ten-page research paper encompassing what she learned about her driving question: "How does the medical profile of a patient influence the anesthetic management for obstetric deliveries?"
The Healthcare21 capstone is a year-long course that allows students to explore a topic relating the healthcare field. Students are required to complete the American Heart Association Heartsaver CPR AED Program with First Aid as well as the "Medical Terminology: A Word Association Approach" course online through Tunxis Community College. Students also have to complete 15 hours of related field experience in the community, and a 2000- 2500-word research paper that answers a self-chosen driving question about a related health/science topic of personal interest.
"I really like working with students during these later years of their high school careers in an academic area which they have chosen because they have a great deal of interest in it. We get an incredible amount done throughout the course of the year, but many class days are more informal than in a traditional class setting and therefore, provide opportunity to work and chat one-on-one with students. I learn a ton from the research my students do … it is amazing to see their accomplishments and successes," Healthcare 21 teacher Debbie Tebbetts said.
Burt decided to complete the Healthcare 21 Capstone, as it best allowed her to explore a topic that she believes will help carry her into the future. Burt chose her topic, as her dad is an anesthesiologist, and she has always had an interest in anesthesia and healthcare.
"Capstone not only gave me the opportunity to learn more about the field I am looking to go into but it also gave me the chance to improve my communication and presentation skills throughout the duration of the course," Burt said.
Despite her success in the course, Burt's experience in the field did not begin with Healthcare 21. During her junior year, Burt had the opportunity to take the Certified Nurse Aide (CNA) program at Tunxis Community College. The experience facilitated her interest in nursing, and she will be attending Northeastern University in the fall of 2019 as a nursing major.
"Olivia is so humble and thoughtful. The thought of her going into the medical field is so heartwarming. She is going to touch so many lives not only through her knowledge and intelligence but through her kindness and integrity," Capstone Coordinator Kelly Stokoe said. With her certification, she is currently employed at the Center for Advanced Reproductive Services in Farmington. As affiliates of the UConn School of Medicine, the infertility clinic provides a wide range of treatments and services that allow people to start families. Burt noted that this experience in conjunction with the Healthcare 21 capstone has provided her with the opportunity to delve deeper into both anesthesia and the accompanying healthcare professionals.
"After earning my [Bachelor of Science in Nursing], I plan on returning to school to become a Certified Registered Nurse Anesthetist. My capstone project gave me a platform to explore my future career, an experience I am so grateful for," Burt said.