Boys, girls tennis teams end regular season with success
The boys and girls tennis teams came off the regular season with a 15-0 and 14-1 record, respectively. Both winning conference titles, the teams looked to make a deep postseason run
Boys Tennis: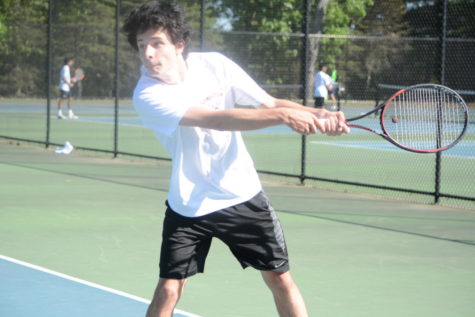 The boys tennis team finished the regular season with an undefeated record of 15-0 while capturing the Central Connecticut Conference (CCC) title. Led by senior captains Neel Mirani and Vishanth Palanivel, with the help of newcomers senior Alex Salamon and sophomore Jerry Zhang, and returning seniors Pierson Elliott, Som Sedigh, Kumar Darsh, Michael Nolan, and Rohit Limaye, the boys were able to earn some seeded spots in the Class L State Tournament.
This marks the third undefeated season in history for the boys and the first since 1991. In addition, it is the third CCC title in the past four years.
Salamon had not been a member of the tennis team until he decided to join senior year to be part of a team environment and help in a state title run. This team environment is what he believes anchors the success throughout the season.
"The biggest contributor to success has certainly been the team spirit everyone brings to the court. Everyone cheers the other players on even if they're also playing a match. This gives a little mental boost and encouragement that has pushed us over every obstacle we faced," Salamon said.
Zhang is one of few underclassmen to have his scores count throughout the year also says that the feel of family has led to the undefeated regular season.
"We support each other everyday on and off the courts. Knowing that we have this family behind us allows us to play better than we ever could," Zhang said.
Although the team culture may have significant impact on the performance, it is known that coaches and captains are factors in how a season plays out. According to both Salamon and Zhang, the team is lucky to have intelligent coaches.
"Our coaches are very insightful and always give us pointers in how to gain a tactical advantage during changeovers. In the heat of the moment, these tips are very helpful because we sometimes don't notice our opponents' weaknesses," Zhang said.
Senior leadership, according to the team, is the other factor that has pulled the team throughout the year.
Salamon had nothing but kind things to say about the leadership of his team.
"The outstanding captainship by Neel Mirani and Vishanth Palanivel. They have encouraged the team to become super close with numerous pasta parties and other team-held events. This just makes playing on the team that much more fun because we each have a bond with one another," Salamon said.
The varsity team is coached by head coach Jeff Dauphinais, with help from assistant coach Patrick Mulcahy.
According to Dauphinais, the coaches are very proud of the growth and composure players have had throughout the year.
"The improvements that the team has made over the past four years, such as the ability to take on different roles when injuries forced us to make lineup changes, and the ability to come up big in tight matches such as Avon have been critical to our success," Dauphinais said.
Girls Tennis: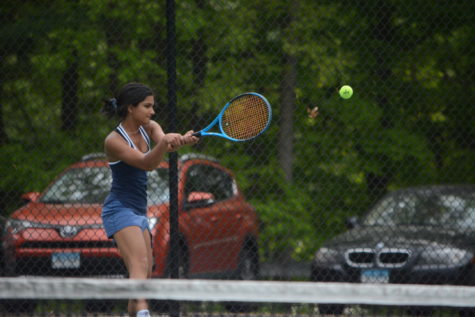 Girls tennis was expecting a rebuilding season after graduating four varsity seniors, but instead they ended the regular season with a record of 14-1 and won a conference title. The team looked to senior captains Joanne Le and Abby Simard to lead them. Contributions to the team's success came from both returning varsity players and numerous new additions.
An encouraging environment allowed for teammates to grow and support one another, something that junior Ava Ferrari believes contributed to the team's success this year.
"Everyone pushed each other to work hard in practice and pushed us to live up to the team's potential. I'm really excited for another season playing tennis with this team. It's a great environment," junior Ava Ferrari said.
Young players were needed to step up on the varsity court, a role that freshman Sonali Patel filled as a result of the collaborative environment.
"I entered the varsity team with excitement as it is my first year playing. The first couple of matches I was very nervous and not confident that I could win, but my teammates helped me to stay calm and remember to use my skills. It was their support that allowed me to grow as a player this season," Patel said.
Le believes that head coach Charles Butterfield contributed to the camaraderie between the players.
"Coach Butterfield is everyone's favorite part of being on the team. He is very focused on the players and not the result of the game. He is very supportive of us and wants us to play well regardless of what the outcome of a match is; yet, at the same time he is always so proud of us when we do succeed. His positive attitude is contagious and is the root of our success," Le said.
As a captain, Le also worked to create a relaxed, stress-free feeling on the court.
"I think we were so successful because of how relaxed we were. We knew that we had a lot of building to do after losing more than half of our starting lineup but with so many great players coming in and the returning players really stepping up, we were able to have an amazing season just by winning one point at a time. Our record or the possibility of a title was never our biggest concern; we really focused on improving our technique, and everything else just worked itself out," Le said.
A big test for the team was against class rival Glastonbury, a team that the girls had not been able to beat in years. A 4-3 win against the Tomahawks solidified the team's confidence going into the postseason.
"We haven't beaten Glastonbury in years, and our first singles player [sophomore] Krithika [Santhanam] was able to beat her opponent in a tie break which gave us the win 4-3. This win motivated us to work really hard in practice to prepare for the postseason. The match was the win that we needed to tell ourselves that we can be successful in the state tournament," Ferrari said.
The team's regular season success paid off as they got a bye in the first round of the tournament. They are hoping to go as far in the postseason as possible.