Valedictorian and salutatorian goes to seniors Pei Chao Zhuo and Ava Ferrigno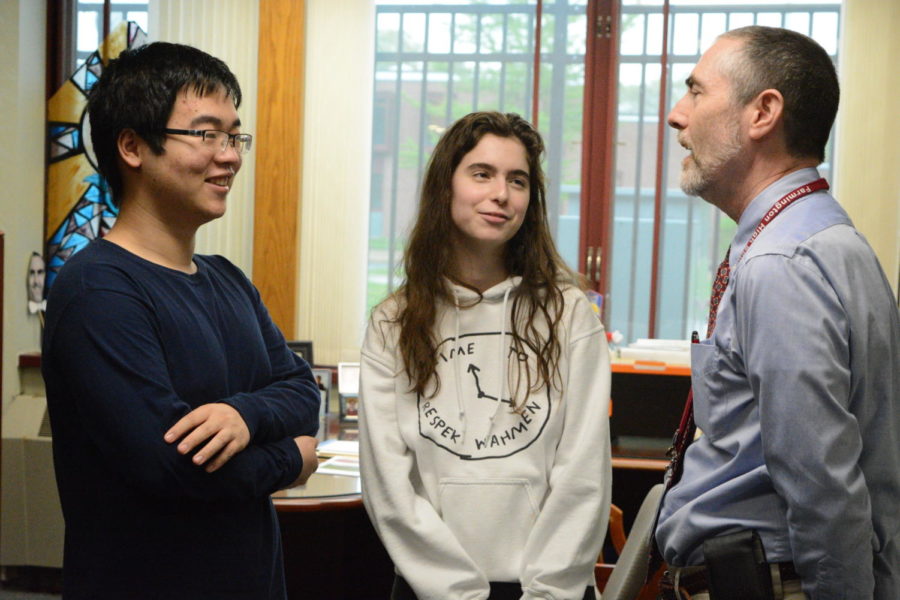 Pei Yi Zhuo, Editor in Chief
June 3, 2019
The valedictorian of the Class of 2019 is senior Pei Chao Zhuo. Senior Ava Ferrigno is salutatorian. They will each address the class at graduation on Wednesday, June 12.
On February 22, Principal Bill Silva invited the two to his office to inform them of the honor.
"Both students have worked very hard to achieve this recognition, and more importantly have contributed so much to our school through their many activities and their positive attitude," Silva said.
Ferrigno did not anticipate receiving the honor.
When I got called down, I thought I was in trouble . . . So I guess I was pretty surprised…and relieved to not be arrested," Ferrigno said.
Zhuo described it as a "very happy moment".
AP Biology and AP Environmental Science teacher Laura Butterfield has had Ferrigno in both her AP courses. Last May, Butterfield awarded Ferrigno, then a junior, with Outstanding Student in Biology. She is complementary of the saludatorian's performance in AP Environmental Science as well.
"Bio and Enviro are very very different classes, even though there is some overlap with the content . . . Ava was successful in both, showing her depth of academic maturity, and I enjoyed working with her as she has a very inquisitive mind and is always up for a challenge," Butterfield said.
Ferrigno cites her column on The Voice as a significant extracurricular commitment that led her to select English as a college minor.
"When Ava approached me about writing a column, it was clear that she was invested and enthusiastic about her topic. Her work was always so detailed and insightful; it was always a pleasure to read her new writing. Her column further added to the diversity of the paper," newspaper advisor MJ Martinez said.
Senior Carolyn Piera, who has known Ferrigno since their time at Noah Wallace Elementary School praises her friend's work ethic.
"Ava is someone who gets the job done. It does not matter how long it takes, what it is she has to do, or what sacrifices she has to make. When she sets her mind to something she will not only do it, she will do it to the best of her capabilities," Piera said.
AP U.S. History teacher Jefferson Gawle wrote one of Zhuo's college recommendations and awarded him with the Farmington Historical Society Book Award last year which is given to the best AP U.S. History student each year.
"Pei Chao is the most gifted student I have ever taught in my twenty six years as a professional educator. He came into the class with an incredibly complex understanding of American history, armed with deep content knowledge and the analytical tools necessary to excel at the highest levels of critical thinking," Gawle said.
Zhuo also participated in the economics team and was a member of the four-person A-team that won first place at the 2018 Harvard Pre-Collegiate Economics Challenge.
"Pei Chao has an extremely hard work ethic and presents nothing but the best all the time. He is always willing to put in the work to succeed, which makes him so successful in both his academic and extracurricular activities," economics team captain Stewart Buzdon said.
Reflecting on his time in high school, Zhuo remembers the many "great educational opportunities that enabled [his] success".
Later this year, Zhuo will attend Harvard University in Cambridge, Massachusetts and Ferrigno will attend Johns Hopkins University in Baltimore, Maryland. Ferrigno decided to apply to Hopkins on the advice of Butterfield.
"In October I was having a crisis because I didn't know where I wanted to go, so I went to my old AP Bio teacher (and current AP Enviro teacher) Doc B to ask for some help. We stumbled upon Hopkins at one point and just went through their bio programs and Doc told me that this was where she would want her kid to go," Ferrigno said.
In addition to the aforementioned minor in English, she plans to double major in molecular & cellular biology and neuroscience at Hopkins.
Zhuo applied to Harvard under their Restrictive Early Action program, meaning he learned of his acceptance on Thursday, December 13, 2018. He plans to concentrate in economics and participate in Harvard's student run newspaper, The Crimson.
To the other members of the Class of 2019, Zhuo advises them to remember "that sustained effort pays off". Ferrigno hopes her classmates can find the humor in life.
"Things are just going to get harder, but if you can laugh, you can persevere," Ferrigno said.