Connect provides opportunity for students, faculty, staff to give back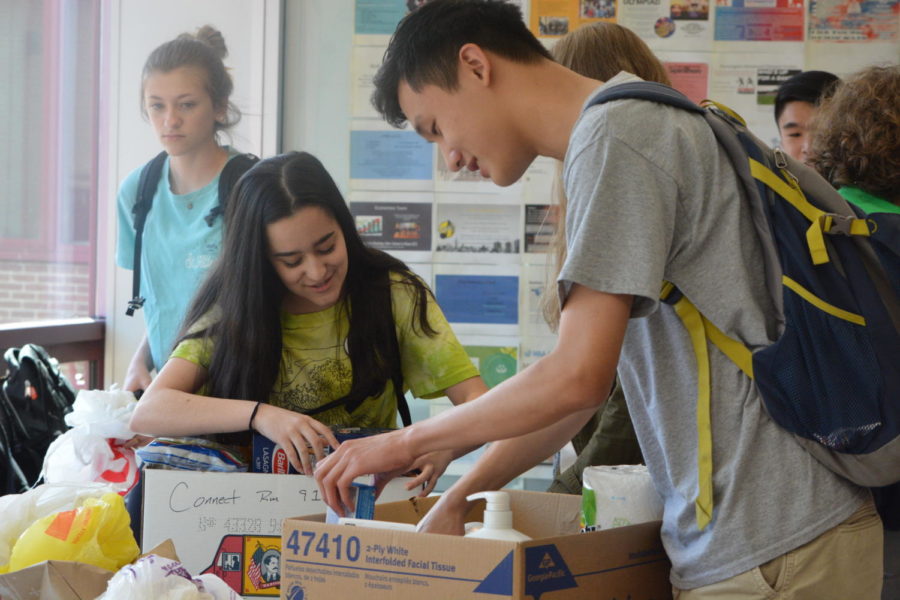 On May 24, the freshmen, sophomores, and juniors participated in the annual Community Giveback Day. Students wrote letters and collected donations for veterans, collected goods for the local food pantry, or participated in the "campus crawl." The day allowed students to give back to the community and work together alongside faculty and staff.
"The relationship between the high school and the greater community is an important one for both the students and the community. With over 1,200 students in the building, we can give so much back to the community that has given us so much," Student Activities Director Russ Crist said.
While some stayed indoors to organize donations and write letters, others went outside to clean up the school grounds. The topic of climate change has been at the center of many conversations recently. Junior Gill Fulton used Giveback Day as an opportunity to address the issue.
"There's a lot of small pieces of plastic all over the school grounds that get missed. It's really important to care of this Earth and Giveback Day gives students the opportunity to do so," Fulton said.
Others decided to continue conversations that stemmed from the veterans celebration that happened this week in the library to honor those formerly in the services.
"We decided to write cards because it's really important to thank soldiers for all they've done for the country. Giveback Day, in general, is important because sometimes small acts go unnoticed, so it's nice to recognize them," junior Alexa Scott said.
Donations to the food pantry and veterans hospital will be delivered in the near future.