Spoken word slam showcases student work, inspires creativity
The Poetry Honors class, taught by English teacher Virginia Gillis, gathered in the library April 29, 30, and May 1 for a spoken word poetry slam. Around eight students performed each of the allotted days, sharing their original work.
The poems were read as part of the spoken word unit, in which students studied famous poets and their works to better understand the complex aspects of spoken word. Students wrote poems on diverse themes, like that of self-acceptance, family, coming of age, and the environment.
The class had been working in and out of class for two weeks on their original pieces prior to the performance. Students began by listening to the poem, "Jellyfish" by Sarah Kay and "Shake the Dust" by Anis Mojgani. The poems provided examples of sound devices, rhyme, and allusion– all devices that the class studies. In addition to written devices, the poems helped students in developing tone and body language, which are key to a spoken word performance.
"The students gained additional public speaking opportunities and a chance to publicize their own work. In doing so, they overcame challenges as well as employed poetic devices we have been studying in a new form," Gillis said.
The poems were written in conjunction with students' personal poetry anthologies. The anthologies focus on a student-created driving question and include six works by published authors and six original poems from the student. Driving questions can pertain to philosophical ideas, literary theory, or other topics regarding poetic construction.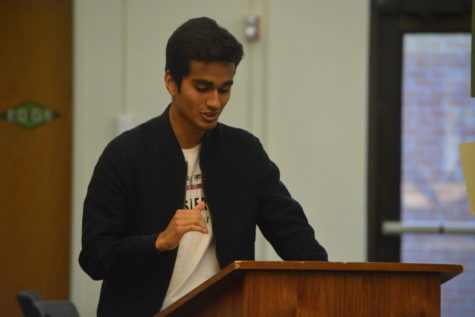 "My guiding question focuses on how poets are able to convey complex emotions like that of sadness. My anthology has numerous poems that I have written, as well as poems by a diverse group of authors," senior Katie Smith said.
Performances ranged from one to three minutes, and students, faculty, and staff were in attendance. After each reading, the students engaged in a discussion about what they noticed, analyzing each poem as a class. 
Senior Liam Hemingway's shared his poem "A Flock of Birds" about someone observing a group of birds. The poem discusses the philosophical concept of trust.
"I learned that spoken word adds another dimension to poetry, and being able to perform my work to my peers was a really interesting experience," Hemingway said.
Teachers in attendance noted that the students were honest and allowed themselves to be vulnerable in their poems despite the fact that they would be publicizing their work.
"The class definitely has a rapport that allows for students to be honest and vulnerable. Also, students should know that spoken word poetry is hard because it is spoken, so many intricate details come together to add meaning to the piece. The fact that students engaged in the work so thoughtfully was impressive to see," English teacher Lauren Luciani said.
The poetry class is a half-year course and counts towards the four-year English credit requirement.