Vietnam-era veteran shares war experiences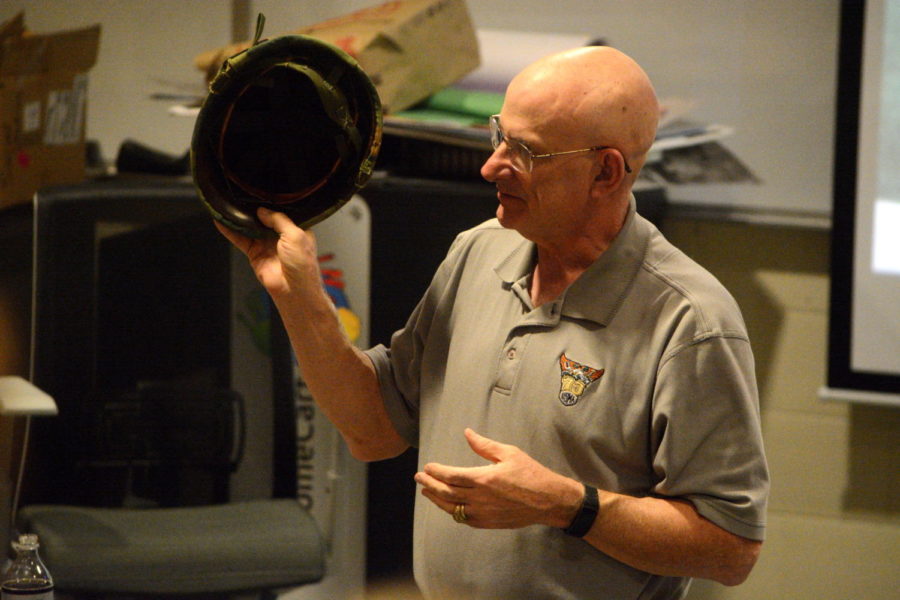 Former math teacher Bob Thomas visited the high school on April 23 to share his war experiences with American Studies students. Equipped with his war gear, Thomas highlighted the essential equipment that soldiers used.
Thomas graduated in 1969 from high school and was accepted to the Military Academy at West Point in West Point, New York during the height of the Vietnam War. The expectation was that Thomas would go to Vietnam once he graduated, but the war winded down during his junior year so he never actually made it over. Therefore, Thomas is considered a Vietnam-era veteran since he did not go to Vietnam.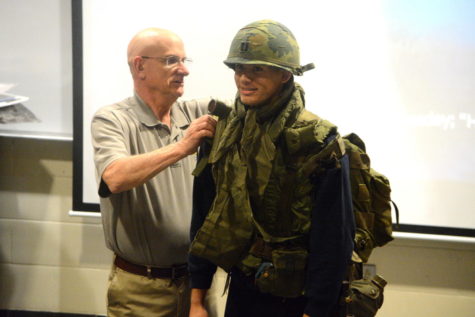 For each presentation, Thomas outfitted an American Studies student with an M1 helmet, rucksack, "butt pack," entrenching tool, among other tools and equipment. Allowing viewers to hold his items, Thomas gave the students the opportunity to feel the physical weight of these items, which totaled for each soldier to about 80 to 100 pounds.
"[The gear] was very heavy; it felt as if I were carrying one of my siblings on my back. And the weight felt like it was increasing as time went on," junior Gio Andino said.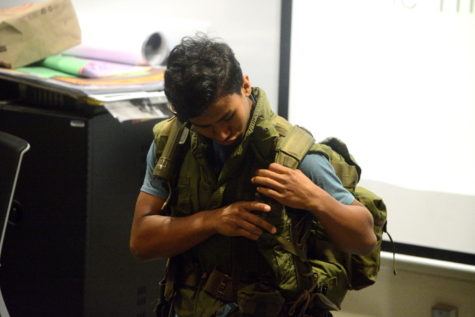 American Studies students are currently working in a unit called "Burdens and Responsibilities" which focuses primarily on the stresses of Vietnam soldiers. However, the students will also focus on other groups and their respective adversities.
"In the second half of the American Studies course, we have taken a more thematic approach. Units of study are designed to include a more expansive range of topics, which helps to engage students and deepen understanding of continuity and change across historical eras," American Studies teacher Patrick Mulcahy said.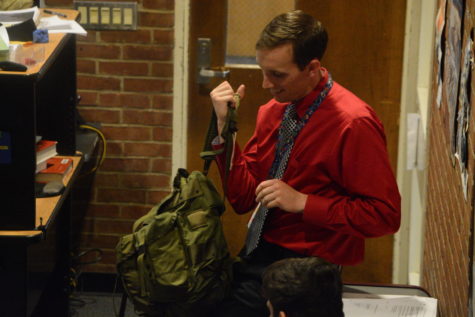 In preparation for Thomas' visit, the students did a close-reading of the first chapter of Tim O'Brien's The Things They Carried with American Studies teacher MJ Martinez in order to familiarize themselves with the war terminology and the different equipment Thomas brought in. The students also learned some of the historical context of the war.
"In preparation for Mr. Thomas' visit, students were introduced to the context of the Vietnam War. In class, students explored Cold War history from 1945 up to the beginning of the war to better understand its origins. Then students were introduced to the geography of Indochina as well as the key players in the war itself. Through primary source images and video clips, students looked at the struggle of U.S. Presidents Eisenhower and Kennedy in responding to the early conflicts of Vietnam," Mulcahy said.
Thomas acknowledged that O'Brien's book is more than just about the physical items that the soldiers carried but the mental baggage as well. His visit gave students an insight into both.
"As we read from The Things They Carried, we gain an understanding of what the soldiers went through. [The presentation] was a whole new eye-opening experience since we had someone who experienced all the trials and tribulations of the war come in and explain in detail what his life was like," junior Donovan Banks said.
For Thomas, the aftermath of the war was both positive and negative. While he notes that there was a  "large anti-military feeling" after the war, which even led to he and his wife being spit on, it was his use of a magnetic-north compass that led to his love of math and eventual career in mathematics.
Thomas plans on returning next week to speak with the American Literature classes to continue to share his stories as they also engage with O'Brien's book.