Calin develops diving, leadership skills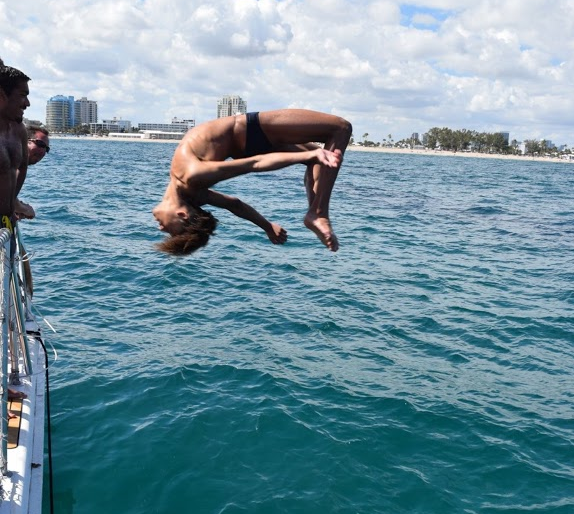 Junior Jadyin Calin has put his hobby of parkour to use on the boys swim and dive team, where he has grown both as a diver and as a leader. Calin will play a key role on the team this year as the team looks to improve their previous season record.
 Calin has been diving for three years, and his hobby of parkour has translated smoothly to his skills on the board.
"When it comes to rotation and getting over the fear over doing things, my hobby of parkour really comes into play. I really needed to work on form and flexibility when I first started and I've gotten better at that," Calin said.
Head boys swimming and diving coach Scott Ferrigno has watched Calin grow as a diver from his freshman year to his junior year and enjoys watching him take on new challenges everyday.
"When Jadyin was a new diver, he looked to the coaches to tell him what new dives he should learn, and what goals to set and how to progress. Now Jadyin is motivated to create his own path, setting goals and challenging himself daily. You want an athlete who finds a direction and enjoys challenges," Ferrigno said.
Despite swimming being a sport focused on the individual, Calin's favorite part of the sport is hanging out with the other guys, as he says that it makes everything worth it. Calin has also impacted the other divers around him on the boys team. Sophomore Jameson Canny is one such diver who has respect for Calin and what he brings to the team.
"Jadyin  is probably the nicest guy I have ever met. He made me feel so welcome [when I joined the] team. I respect how humble and friendly he is to everyone he meets. Jadyin  [also] brings a positive energy to the team, and he is easily the most entertaining person to watch dive," Canny said.
As the season gets underway, Ferrigno has made some goals that he hopes to see Calin accomplish this year, among those being flourishing as a leader and improving his overall scores.
"As much as I want Jadyin to progress to harder dives and higher scores, I also want to see the leader inside of him. He has great presence with his team mates and I hope he can continue to inspire, encourage and to instill high expectations for training, meets and being a great team mate," Ferrigno said.
Swimming is all about setting new personal records, and Calin's personal goal is all about his diving scores.
"I want to set a new record this season. By the time I'm done diving for the high school, I hope to set a record that's unbeatable. I'm also excited to see what the rest of the team accomplishes this season," Calin said.