Lit Fest spreads knowledge on the power of writing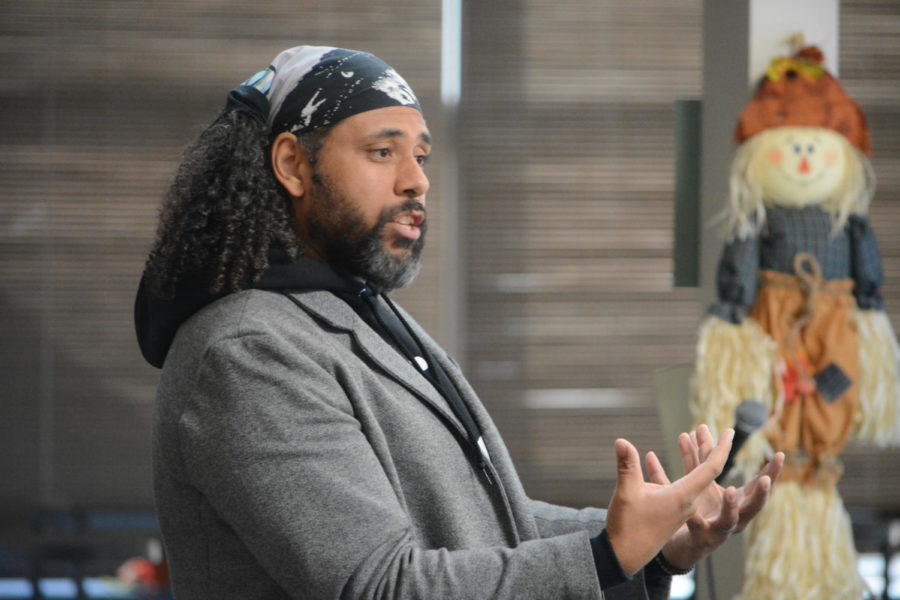 This year's Lit Fest occurred Wednesday through Friday, November 14 through the 16, and included a variety of artists who gave presentations regarding their literature to spread knowledge of the subject throughout the school. However, due to the weather on Friday, November 16, school was canceled. Thus, the two artists, Cassandra Kubinski, and Greg Katsoulis were not present at this year's Lit Fest. The school is currently trying to have those two artists come at a later date to finally present.
Furthermore, each presentation was specific to the writer who was performing, generally, if the author had a published book the topic of discussion would be geared towards that. However, not every performer was only an author, for example, Ryan Parker came as a guest poet, while the other artists consisted of Carrie Firestone, Chris Crutcher, and Matthew Dicks, all came as guest authors.
"The authors spoke about their books and what their writing process is like. Carrie Firestone talked about how her writing The Unlikelies inspired her to give grants to people who wanted to make a difference. Chris Crutcher told us how he wove his life experiences into stories. The characters in his stories were people who he met in his small town where he grew up or people who he encountered in his work. Matthew Dicks instructed the students how a story can be improved by rearranging the details so that the story is more interesting," Library Media Specialist Nancy Carlson said.
With that said, a variety of writers came to Lit Fest to give the audience, which consisted of students and staff, knowledge regarding the world of writing. Lit Fest is supposed to show students what they can do with their writing and that they can use their voice in all different ways.
"The purpose of Lit Fest is to celebrate the literary world by exploring the work that active authors, poets, storytellers, songwriters, etc. do. We hope by bringing these individuals to the FHS community, students at FHS may find inspiration to enrich their literary and creative lives or perhaps even to pursue their literary or creative dreams," English Department Leader Amy Miller said.
Lit Fest gives students an opportunity to discover more about the careers involving writing and expanding their knowledge on what that career path consists of. In order for students to engage in these presentations, they either went to them during their study halls, lunches, and or they went to Lit Fest during one of their English classes.
"I found it very interested that it took so long for writers to generate and publish their final product while, prior to attending, I believed that the writing process was quick and easy. Thus, attending Lit Fest gave me an insight and knowledge on the writing process which is delicate and meaningful," senior Olivia D'Alessio said.
Parker, who attended last year's Lit Fest as well, wanted to encourage the audience to expand their knowledge on writing and use their voice to express a message or concept. He began his own love for poetry through his appreciation for hip-hop and rap.
"All of us have a poem living inside of us, and you don't necessarily have to be an outspoken poet but it's living inside of you and you got it. I want to embrace creativity, and most importantly for students to use their voice, and I want them to know that they are powerful and they need to use that power to benefit others," Parker said.