Grzywinski takes next step in golf career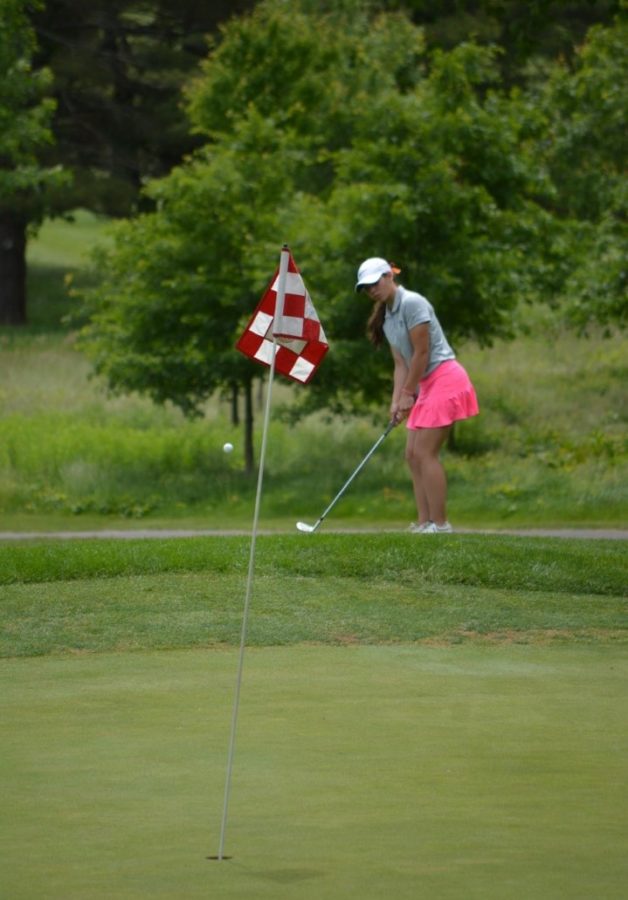 Matthew Arena
November 26, 2018
For Senior Mia Grzywinski, playing in college was the ultimate goal for her golf career, and her dreams are turning into reality when she committed to play Division I golf at Quinnipiac University.
Although she started playing at age the 13 which was years after most of her competition, Grzywinski has excelled for both the high school team and the Junior Professional Golf Association. She credits a lot of her success to coaches Suzy and Bill Whaley.
"[They] are the reason I am where I am today.  They are the ones who helped me to enjoy and love golf, and that passion that they sparked is what has driven me to achieve my goal of playing Division I" Grzywinski said.
For many golfers, they have struggles overcoming the mental part of the game. Forgetting about the last shot and focusing on the one coming up, however what makes Mia so successful is her mental game, according to varsity girls coach Russell Crist.
"She is one of, if not the most mature and mentally strong athletes I have ever coached, in any sport.  She does not let things that are out of her control faze her, she does not let the course, the conditions, or her opponent impact her preparation or focus on the match at hand." Crist said.
With the goal in mind to play Division I golf, Mia wanted to make sure the school she was committing to didn't just offer golf but also gave her the opportunity to succeed as a hardworking student. Picking schools as an athlete can often be tough, as you may become unaware on if you actually want that school to be yours. For Mia, she looked into more than just golf, as she desires to be part of the science program at the school
"I love the campus.  It's beautiful and close to home, which definitely adds a level of comfort.  It's also a school with strong engineering and science programs, so I know I will fit in there academically." Grzywinski said.
Although she has reached an unforgettable milestone already, Grzywinski is striving for much bigger. She carries expectations for this year and beyond. In the upcoming tournaments she has left before the season ends, she hopes to shoot some of her lowest scores of 2018. In the future, she hopes to carry the growing Quinnipiac program to more success.
"Next season, I am looking to significantly lower my stroke average.  I am planning to work even harder than usual during the off-season this year, so I expect that I will be in great shape to have my strongest season yet in 2019.  In college, my goal is to work my way into the top 6 players frequently as a freshman, and lead the QU team to multiple Metro Atlantic Athletic Conference victories throughout my college career." Grzywinski said.
Grzywinski's mother, Lauren , wasn't always positive Mia would be able to play in college, but credits all of her success to the hard work Mia has put in over the past five years. She also has high hopes for Mia as she enters Freshman year too.
The Quinnipiac golf program started only seven years ago, but has seen rapid growth. They have won two MAAC Championships in the past three years, and have the 13th highest GPA of all D1 Women's golf programs in the nation.