Crew team races at Head of the Charles Regatta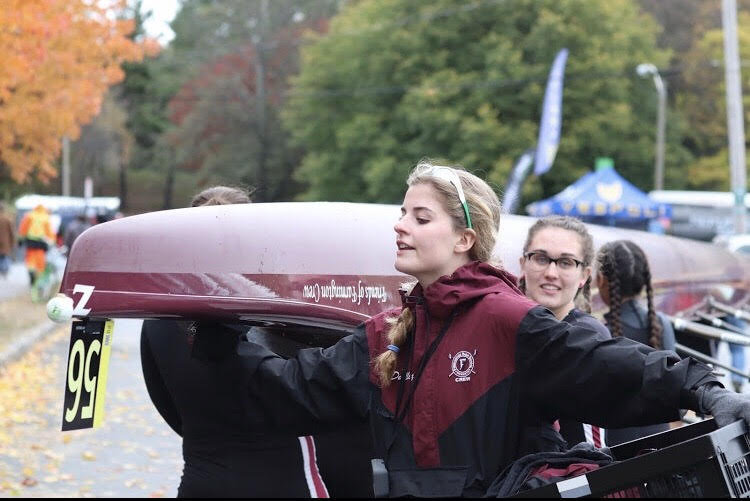 Nate Hughes and Patrick Catillo
November 5, 2018
The boys and girls varsity crew teams participated in the fifty-fourth annual Head Of The Charles event in Cambridge, Massachusetts. The event took place from Friday, October 19 to Sunday, October 21.
The regatta has been held since 1965 inviting competitors from several countries to compete. The high school boys and girls varsity teams competed in the event ranking sixtieth out of the top 80 teams and seventy-fourth out of the top 82 teams, respectively.
On Friday, October 19, the teams traveled to Boston. Each team having a chance to practice and analyze the race course. When asked about what the team did to prepare for this event, Coach Doctor Butterfield had a lot to say.
"Everyone worked incredibly hard in practice when it came to running, urging (rowing), and rowing on the river. Not only that but, a lot of the athletes did beam training (leg resistance training) in the boat house" she said.
The boys' team enjoyed their time and got the chance to watch other races to get an idea of the upcoming regatta.
"We really enjoyed the time we got to spend together. Overall, it was an amazing experience. Our team enjoyed bonding with each other at dinner afterwards. It was really a great thing, and everybody really enjoyed themselves," boys varsity crew captain senior Dalton Westerberg expressed.
On Saturday, October 20, the boy' crew team went home, while the girls remained in Boston. The girls got a chance to cheer on their coach, Chris Depaola, as he raced for his college alumni team.
The following Sunday, the girls' and boys' teams finally raced in the regatta aside crews ranging from Avon and Middletown to Dublin and New Zealand. Senior captains Sam Gabree and Dalton Westerberg participated in the regatta.
"Yeah, the boat [team members] went into the race hesitant and nervous but once we got going and the adrenaline kicked in, we had one of the best races and experiences of our lives," Dalton Westerberg said. "I am truly proud of all my teammates."
"I think we raced really well, we were really happy with how much we worked," Sam Gabree explained. "It was a really great experience and I was thankful for the opportunity to be apart of such a wonderful group of girls."
"There were a lot of memories made" according to Coach Butterfield. Most notably a "nail biting" end victory over Brunswick.
 The team hopes to race again in next year. Yet, for now, the rowers are focusing on their goal to win the Rowing State Championships this coming spring.