Annual pep rally unifies, excites school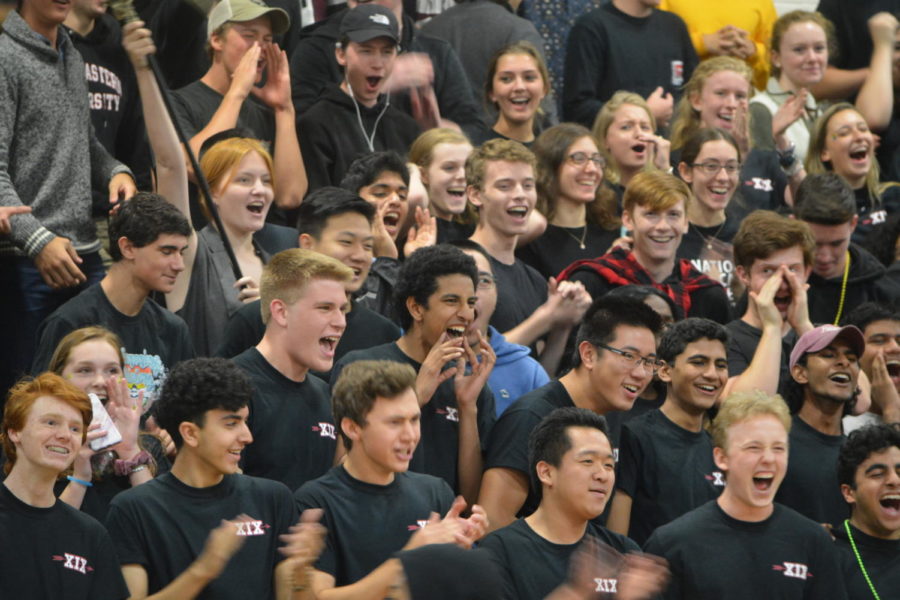 This year's annual pep rally took place on Friday, September 28, and was an opportunity for students to show off their school spirit. Seniors Benny Hughes and Ethan Blumes hosted the event.
"What made me want to do the pep rally was my own motivation to make my last pep rally at the school the most memorable for people. I remember my first pep rally; it was so loud and full of energy, and I wanted to replicate that. I just [wanted] everyone to have fun and enjoy the event," Hughes said.
Increasing school spirit and enthusiasm is the main purpose of the annual pep rally. Student Activities Director Russ Crist believes that the pep rally is an important part of the school community.
"I think Pep Rally is a very important aspect of our school. Right now, it is the only time the entire faculty and staff are together in one place. It is a time where we can celebrate FHS and show school spirit and pride as a group. The atmosphere is electric, and I think the events this year will keep the crowd going for the entire pep rally," Crist said.
Per tradition, each class chooses a color that is represented on their shirts to unify the entire grade. This year, the senior class chose black, juniors chose tie-dye, sophomores wore white, and freshman wore blue.
"At the pep rally, the unity is evident. Looking at each class in their respective section of the bleachers, you don't see 300 or so individuals; you see one herd of color," junior class president Frank Fishman said.
This year, the pep rally consisted of many entertaining events including student and staff tug-of-war, a cheer routine, unified soccer game, half- court shot competition and a pedestal joust.
A new twist on the old homecoming King and Queen tradition was presented this year, and each class council instead nominated a boy and a girl from their class that represented school spirit. Junior Bianca Spinetti was nominated for the junior class and participated in the half-court shot competition to try and win her entire class free admission to the homecoming football game.
"I was really excited to be named as one of the most spirited juniors, it's nice to know that my classmates felt that way. Even though I was terrible at shooting a half court shot, it was still a really fun event and I had a great time," Spinetti said.
Freshman Sofia Modaressi enjoyed her first pep rally at the high school and is looking forward to her next three.
"My favorite part of this year's pep rally was definitely the unified sports soccer game, and I am most looking forward to watching the teachers dance in upcoming pep rallies," Modaressi said.
The homecoming festivities continued on Saturday, September 29 with the football game in the afternoon where the team defeated Bristol Eastern 40-34 and the annual homecoming dance in the evening.