Seniors vote Baxer graduation speaker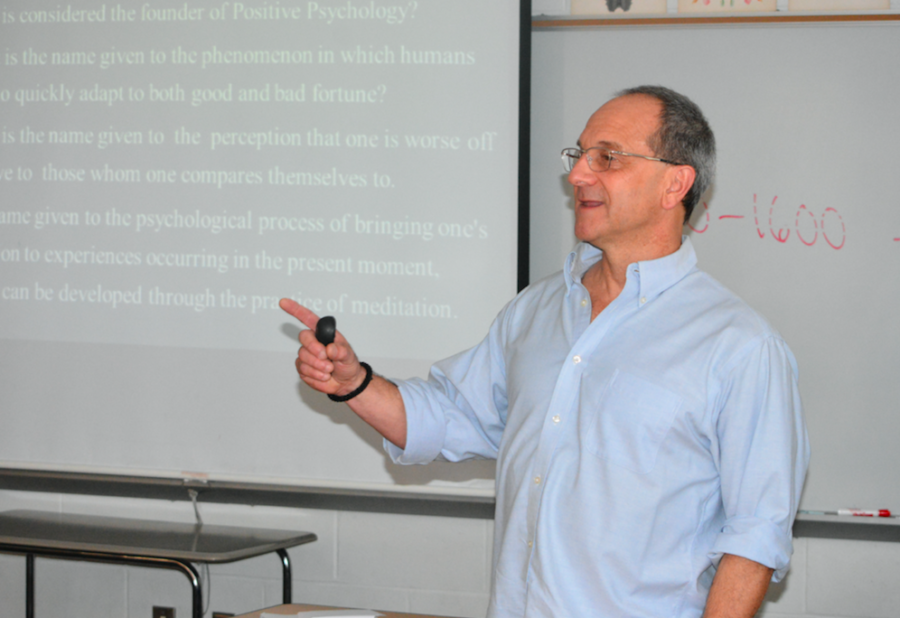 Anna Green, Media & Photography Editor
June 1, 2018
As every school year comes to a close, the members of the senior class vote for who they would like as their graduation speaker. Graduation will be held on June 15, with psychology and sociology teacher Mike Baxer as the nominated graduation speaker.
"It's always a great honor to be chosen. But to be honest, I feel that I'm just very lucky. I teach a popular elective to a large number of seniors. The odds of being chosen are clearly in my favor. There are dozens of teachers in this school that I know I couldn't hold
a candle to. Unfortunately, they just don't have the same opportunity that I have," Baxer said.
Baxer has been teaching for 27 years, having spent 17 of them at the high school. He has taught history, sociology, and psychology but is currently teaching Introduction to Psychology and Advanced Placement (AP) Psychology. This is the first school
year that he has taken on the role of teaching AP Psychology.
"I'm passionate about psychology, and it is by far my favorite class to teach. I guess I'm one of those lucky people in life who gets paid to do what they love," Baxer said.
Social studies teacher Joel Nick attributes Baxer's being named graduation speaker to his passion for teaching his subjects.
"Mr. Baxer is a teacher who believes in the importance of the content he teaches and works hard to convey that knowledge to students. He has a passion for his work, which is a key element of excellent teaching. I think students understand that when a teacher is excited about their subject, it results in a positive learning experience. Since Mr. Baxer is passionate about psychology and sociology, students are eager to take his classes," Nick said.
As graduation gets closer, Baxer has begun to develop plans for what he will say to the graduates in his speech. The last time he spoke at the commencement ceremony was for the Class of 2014.
"I want the speech to be engaging, meaningful, and hopefully a bit entertaining. That's a tall order, and I don't want to disappoint," Baxer said.
Senior Rachel Powell is enrolled in Introduction to Psychology and is pleased that Baxer will be speaking at graduation.
"Mr. Baxer is a huge presence in FHS because he's such an engaging teacher. He really has mastered the art of getting kids to enjoy what they're learning by incorporating humor and doing everything he can to make classes fun," Powell said.
Commencement begins at 6 p.m. on June 15. Baxer will be giving a speech alongside administrator, Board of Education members, as well as the class Valedictorian and Salutatorian. Those wishing to attend but do not have tickets may view the ceremony from the bleachers or hill.