Senior class moves prom location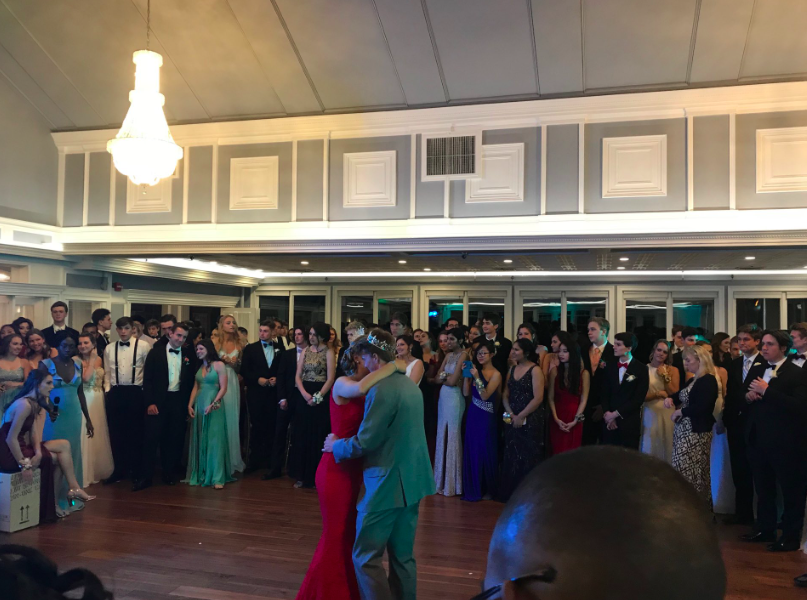 Annika Sager, Features Editor
June 1, 2018
It is tradition for the school to host proms at The Aqua Turf in Southington. The Class of 2018's student council decided to veer away from this location for their senior prom as they wanted to switch things up from their junior prom. The decision to change
locations was decided their junior year as they were interested in dates that were not available at the Aqua Turf but also because they wanted senior prom to feel different and not just a replication of their junior one.Various locations were considered, including The Hartford Marriott, Riverview in Simsbury, and Aria in Prospect.
Social Studies teacher Patrick Mulcahy advised the council during senior class advisor Lauren Luciani's maternity leave. He played a key role in the choosing of Glastonbury Hills as the new location.
"During my time covering for Mrs. Luciani, the class council was planning senior prom and looking at different venues. I suggested Glastonbury Hills Country Club, as I grew up in Glastonbury and knew the facility had been recently renovated. After a
visit and some calculations, the class council and [senior class advisor] Mrs. [Jessica] Tolles agreed that it would be a good choice for a great price. The club itself is beautiful, and I hope that the students had an enjoyable experience there for prom," Mulcahy said.
The senior council worked closely with the staff at Glastonbury Hills to arrange a prom that would be enjoyed by all. The staff offered their meal, color, and DJ options for the council to sort out and choose from.
"As we looked at prom venues, it was important that we chose something visually appealing, convenient and cost efficient. Glastonbury Hills met all of this criteria while keeping cost down for students. The people there were very accommodating and
friendly, making the whole process very straightforward," senior Haley Prisloe said.
The colors chosen were silver and navy, and the three meal options varied between chicken parmesan, penne alla vodka, and salmon. Servers also walked around with trays of appetizers before the meal was served. Each detail had to be considered and chosen by the class council and advisors. The night ended with the dance floor filled with students.
"The new location was very aesthetically pleasing. My one complaint was that the dance floor was a little too small, but all-in-all I liked the [location] switch," senior Nick Vendetti said.
While the size of the room was smaller than the Aqua Turf, there were other perks such as a view of the golf course outside and more food options.
"I loved the beautiful view and big windows surrounding the whole room. It made our senior prom feel more different and special than junior prom as it was something new and felt luxurious," senior Vaishnavi Kumbum said.