Music festivals kick off warmer weather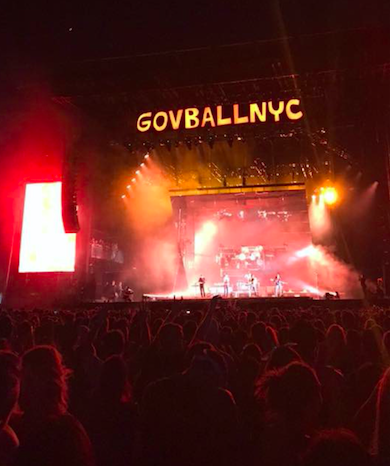 Annika Sager, Features Editor
May 29, 2018
The spring and early summer months bring warmer weather and the season of music festivals. One that is nationally renowned and known due to attendance by many celebrities is Coachella in Indio, California. Two closer to home are Boston Calling in Boston, Massachusetts, and Governor's Ball in New York City, New York, both in which students have attended.
While Coachella is less heavily attended by people who live on the East Coast people, it is still well known by people all over the country and loved for its distinct style. The festival has a variety of music styles performed as well as showcasing different art. Tickets sell for $429 for general admission and various other VIP passes are sold. It took place from April 13 to the 22, spanning over two weeks.
Celebrities such as Leonardo DiCaprio and Vanessa Hudgens all made appearances at this year's festival. Performers this year also included Beyonce, The Weeknd, Eminem, Cardi B, Post Malone, and Vance Joy. Boston Calling is known as the festival that starts the "summer concert" season. It took place May 25 to the 27, only lasting the weekend.
The festival is located in Harvard Athletic Complex. Prices are less than Coachella but it is also significantly shorter. General Admission tickets cost $289 for the entire weekend. The lineup included Killers, Eminem, Khalid, Tyler The Creator, Jack White, and Paramore. Other less widely known acts will also perform.
"There are three stages which the artists rotate between. I love Boston Calling because they featured lots of artists which aren't very popular, which allowed me to hear lots of new music. They also had lots of indie/alternative artists, which is my favorite genre to listen to," senior Sasha Goldblatt said after attending the festival last year.
Governor's Ball is the last of the three festivals as it takes place from June 1 to the 3. The location is Randall's Island Park. The price for a general admission weekend ticket is in between the two other festivals as it they cost $305. Anticipated acts include Post Malone, Shawn Mendes, Travis Scott, Eminem, and Khalid. This year will be senior Mya Steir's third
year attending as it is a weekend she looks forward
to annually.
"It demonstrates the personality of New York City and all its quirks, and there's such a wide range of artists from edm, pop, and alternative and rock. I like it because I can get to experience different styles of music, try all of the local NYC food stands, and
it's a chance to be able to express my style in such an accepting and exciting environment," Steir said.
Senior Haley Prisloe attended last year for the first time and loved it and is excited to go back this year. Her favorite performer last year was Chance the Rapper.
"One moment that sums up my experience last year was sipping frozen lemonade out of a watermelon while feet away from one of my favorite artists, Chance the Rapper," Prisloe said.
In anticipation for the upcoming Governor's Ball this year, various students are already planning their attendance.
"A lot of my favorite artists are playing, such as Post Malone, Quinn XCII and Khalid so I can't wait to attend their performances and take lots of pictures," senior Ally Dolmanisth said.